As a women-owned and operated company, we know how much value our female colleagues bring to the workplace. We're proud to celebrate International Women's Day by highlighting some of the women who play an integral role in our business.
The pet care industry is an exception to the often male-dominated workplace. According to the Boston Globe, women account for approximately 79% of "nonfarm animal caretakers" compared to men at 23% (other genders not accounted for). While this data is a few years old, you can see the huge margin of a difference there.
So here's to celebrating the majority of people caring for our "furiends"!
Andrea, Co-Founder & CEO
It all started with Andrea's vision to elevate the dog daycare scene in Los Angeles. After moving to the West Coast from New York, Andrea combined her business acumen and love for dogs to create Fitdog. Her goal was to create a space where dogs could live healthy and active lifestyles, doing what they do best: be dogs! Ever since Fitdog opened its doors in 2010, she has continually evolved the business for the best interest of our members and employees. After almost a decade of providing the best quality care for our members, she feels like she's just getting started.
Brandy, Co-Founder
Brandy is the co-founder of Fitdog and leads the Women's Network at City National Bank. She got Brecken as a young puppy and he later became the inspiration behind Fitdog! Here they are seen completing a race together.
Jessica, Club Manager
Jessica has been with Fitdog since the summer of 2019. She is passionate about making sure things are done right and ensuring the best care for our dogs. Her proactivity and diligence help promote the welfare of our members and employees. And although being Club Manager requires her to be doing something more often than not, she still makes sure to give all the dogs some love in moments of downtime.
Ashley, Team Lead
Ashley has been with us since the early days of Fitdog! A badass mom of two, Ashley strategizes her daily routine to maximize efficiency and flow for everyone. We could liken her to Snow White because she has several dogs who wait by her side to "help" her with daily tasks, and try to protect her if anyone gets too close.
Carmen, Dog Care Attendant
Carmen has been part of the Fitdog team for several years and worn many hats. Her dedication and love for the dogs shine through in everything she does. She always loves to share a laugh over the daily antics of daycare and helps her fellow employees however she can. Additionally, she was voted by the staff as the Guru of Fitdog because she knows every dog, their needs, and generally how to keep things running their best.
Shana, Club Coordinator
Shana always shows up with a great attitude and a smile on her face! No matter the inquiry or crisis, Shana handles it with levity and compassion. She toggles between Club Coordinator and Team Lead and always brings her A-game to whatever she does. The dogs, staff, and clients all adore Shana for her friendly personality and helpfulness.
Leanna, Team Lead
Leanna has been working at Fitdog since the fall of 2019. In just a few short months, Leanna has proven to be one of our MVPs. Her work ethic is unparalleled and she brings 100% to everything she does. As seriously as she takes her job, she always takes time to have fun and give the dogs some love, like Mr. Puffy here.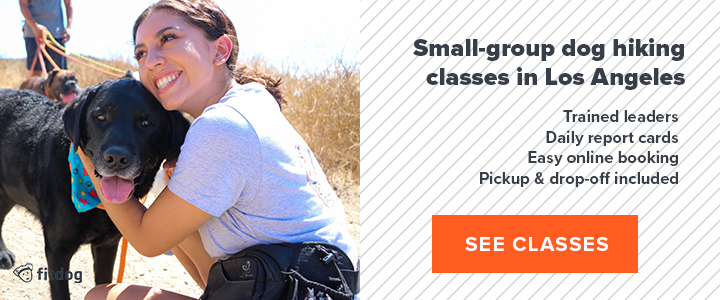 Rhonda, Partner Trainer
Rhonda has been integral in forming our Sports and Training programs! She has over ten years of experience specializing in reward-based and clicker friendly dog training methods.  She leads several of our popular training and sports classes, including Fun & Fit Agility and Pool Safety, along with workshops like Loose Leash Training and Reliable Recall. Rhonda also led our agility demonstrations at the California Science Center. We love Rhonda!
Sylvia, Partner Trainer
Sylvia came to us last fall with her idea for our Scent Works class. Since then, she's brought invaluable insight, presence, and innovation to our sports classes! Her weekly class has become a quick favorite among our members, and her awesome personality made her click with our team right off the bat. Sylvia always brings her best energy to all of her classes and provides owners with thorough feedback on all their dog's activity. She is leading dog training into the next era and we're excited to be a part of it!
Annabel, Sports Leader
Annabel is currently the sole female Sports Leader on our Sports Team! She quickly proved her capability for the job and has had a lot of fun leading excursions. Her favorite activity is the Beach Excursions because she loves being able to play with the dogs off-leash. Annabel gets great photos and videos from the excursions, which we're always excited to share on social media.
Angela & Meghan, Marketing Team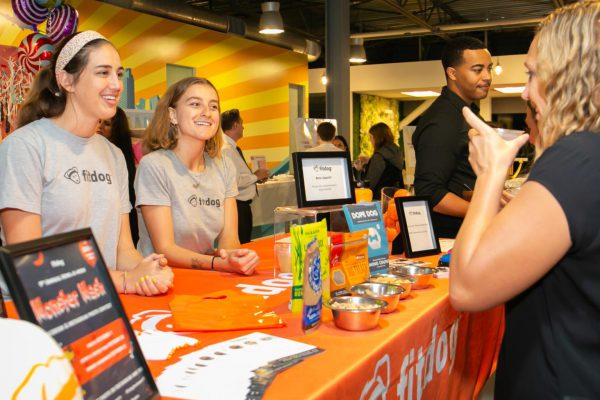 As one half of Fitdog's marketing duo, we have so much fun brainstorming and working together. From digital strategy to events and everything in between, we are super stoked to be the ones bringing you Fitdog greatness in all forms!
Thank you to all of the awesome people working towards a more equitable workplace for ALL womxn! Happy International Women's Day!