Let's face it, puppies are adorable furballs that warm our hearts but also require a lot of attention and care. There are many ways to puppy proofing your life. Stuffables is one tool that every pet owner should have in their tool box. This easy solution helps redirect and stop your puppy from biting and chewing on your stuff.
While your young puppy sleeps a lot, when they are awake, they need constant supervision and entertainment. Moreover sometimes you just need them to be occupied while you are on a Zoom meeting or finishing that report.  If you are wondering how to keep your puppy busy, puppy stuffables are your solution to calm an energetic puppy and promote good behavior.
What are Stuffables?
Stuffables are toys/ objects/ edibles that you can stuff with delicious treats or even their food!  These help make meal time last longer and provide much needed mental stimulation. The idea is to have them ready to go and pull them out as an alternative option to biting and chewing.  They are also an essential tool to crate training 
Since you can make a stuffable out of anything, here are some quick tips to making stuffables worthy of your dogs attention and our favorites.  These are guaranteed to stop your puppy from biting. 
Tips for a successful stuffable:
Freeze it.  Make them last longer by freezing them; your puppy first needs to melt it before they can enjoy it.  The nice cold sensation can also help sooth painful puppy gums.
Be creative.  Stuffables are A-game treats and toys.  These can help make crate time more positive so keep the reward value high and challenging.
Make it delicious. A combination of peanut butter, wet food, cream cheese and kibble make for great stuffing.
Prep ahead. Meal prepping and keeping these in the freezer ready to go gives you lots of flexibility.  You'll always have something super delicious on hand to quickly occupy your puppy.
Femur Bones
While you can often find these pre-stuffed with gunk, the hollow ones are the way to go so you can create a recipe your puppy will go crazy for.  You can put peanut butter on one end and pour kibble inside the hollow chamber and cap it off with peanut butter.  Freeze it so the peanut butter locks in place and give it to your dog for a confetti surprise. 
Orbee Tuff- Double Tuff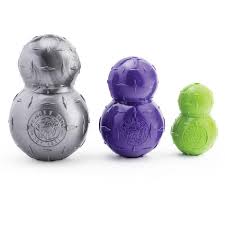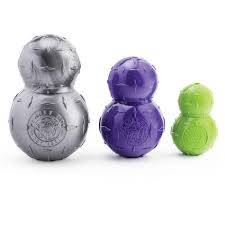 These toys by Planet Dog provide a strong defense against razor sharp puppy teeth.  Stuff with a mixture of your dogs kibble and wet food and freeze or put a dollop of cream cheese right at the opening.  For a fun Puppy ice cream treat stuff with unsweetened plain greek yogurt and stick it in the freezer.  It's not only delicious, but provides great probiotics for a healthy gut.   Orbee Tuff Snoop , Orbee Tuff Diamond Plate Ball, Orbee Tuff Mazee and Guru
Hooves
Hooves are great all natural stuffables.  Stuff with wet food for a tastee crate snack that's sure to please and won't add too many calories to your puppy's diet. Not worried about calories? Stuff it with peanut butter! Crunchy or smooth, the choice is yours.  Buy all natural peanut butter to avoid toxic ingredients.  Low sodium or salt free is a healthier choice too.
Nylabone Stuffable Chew Toy
These strong rubber toys are already flavored and have textured nubs to provide healthy dental support.  What will surely become your puppy's favorite chew, this stuffable filled with a combination of kibble and cottage cheese can provide a frozen delight as a meal time replacement or crate training reinforcer.  These will certainly help solve the age old problem of "how to keep your puppy busy". 
Rubber Kong Toy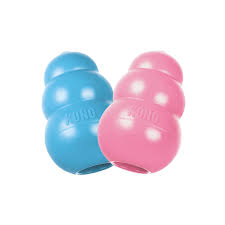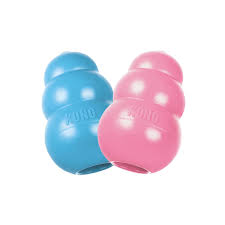 The industry standard for stuffables and a great choice if you have a puppy that has a softer mouth and doesn't do much chewing.  Careful not to stuff these all the way to the inside with goopy stuffing as you'll have trouble getting it out.  These are perfect for putting your puppy's kibble in and closing off the opening with some peanut butter.  Chewing on the cold soft rubber of the Kong toy will provide great relief for your puppies aching gums.
Keeping them busy will cut back on boredom behaviors such as chewing on furniture, personal items and electrical wires.  Mental stimulation will exercise your dog's mind.  Tired mind = tired puppy. 
Having trouble solving how to keep your puppy busy all day while you are getting work done?  Consider our Puppy Preschool Program.  The program offers 6 hours sessions that reinforce healthy play behaviors, socialization, desensitization, and lay the foundations for basics of training.  Available for puppies 8 weeks –  5 months. Book your Free phone or in person consult