This month we are celebrating Gracie as our Fitdog of the Month! This fluffy and happy Goldendoodle always knows how to make us smile. Here's everything you need to know about our June Fitdog of the Month: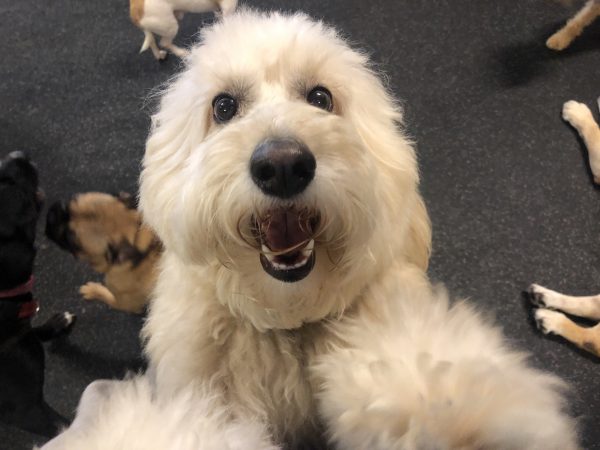 A Fitdog veteran, Gracie has been coming to our daycare for almost five years now! She practically has grown up at Fitdog and we are so lucky to get to see her every week! With an infectious smile and bubbly personality,  Gracie is as sweet as they come. She says hi to everyone she walks past and is always looking for some extra love and belly rubs.
When she's not at the club, chances are she is at the beach with our pack. A true beach dog, Gracie can be found rolling in the sand or playing fetch with her pals. She is good friends with the regular beach excursion crew, but she has a close bond with other Fitdog veterans such as Bruno, Pazi and Diego!
With all the rolling and digging she does in the sand, Gracie always gets bath and blowouts from our groomer, Michael, to keep her doodle fur fluffy, detangled and clean! When she gets groomed her hair is so fluffy, she can easily get mistaken for a cloud.
We are so thankful to have Gracie be a part of her pack! Her beautiful smile and outgoing personality always puts us in a good mood. We love you, Gracie!
Want to see more Fitdog of the Month pups? Visit our Hall of Fame.
Last updated on June 1, 2021.