The Fitdog of the Month Hall of Fame is updated monthly to maintain relevance. Last updated: June 1, 2021. 
Since the early days of our business, Fitdog has elected a Fitdog of the Month every month to carry the torch for the pack and lead with their good example. It's our way of showing appreciation to the dogs we get to know over the years, and remembering our long-time members.
Every month, this dog is featured on our Fitdog of the Month blog, lobby TV monitors, and Instagram. At the end of the month, they graduate to our Fitdog of the Month Hall of Fame. 
Although they are not our pets, Fitdog members do become an important part of a Fitdog employee's life. It's like going to work, and 70% of your coworkers are dogs. You quickly get to know each other, hold one other accountable, and form a bond. We've watched our original club members age, grow, and mature over the years.
While we know not all dogs can be with us forever, we love to remember all of our friends. Read The Fitdog of the Month Team Roster to meet our members and learn why we love them.
The Fitdog of the Month Hall of Fame
Malakas | September 2021
There is no doubt Malakas will immediately win you over with those sweet brown eyes of his. With his gentle demeanor and precious face, Malakas is easy to love. A member of the Fitdog pack for about a year and half now, Malakas quickly became a part of our family.
Whether he is basking in the sun spot on the yard or begging for some head scratches from the team member on duty, Malakas makes himself feel right at home. When Malakas first started going to Fitdog, he was actually a very shy and hesitant pup. But, with lots of love and patience, Malakas has come out of his shell so much and is a lot more comfortable around the other dogs and team members.
You can often find him sniffing for odors during our Scent Works class, jumping through hoops in Fun & Fit Agility or learning new cues in Pack Obedience. We've loved seeing Malakas' growth since he joined Fitdog and we can't wait to see him gain even more confidence. Thanks for all of your kisses, Malakas, we are so thankful you are a part of our pack! We love you!
Lucie | August 2021
Lucie has been at Fitdog for almost four years now and we've loved every moment we have gotten to spend with her! This cutie is one of the chillest dogs at daycare and doesn't have one mean bone in her body. On the yard, she can be found sleeping on "her throne" aka the play equipment.
When she's not resting her eyes, Lucie is on the lookout for belly rubs. If you step anywhere near her vicinity, she will undoubtedly roll on her side, begging for the prized belly scratches and cuddles. We are so thankful to have Lucie be a part of her pack! Her adorable begging and silliness always puts us in a good mood. We love you, Lucie!
Daisy | July 2021
Since Daisy is a herding dog, she has a lot of energy to burn. Luckily, she gets all the enrichment and exercise she needs from our classes! From agility, hikes, scent works and more, there isn't a Fitdog class that she hasn't participated in.
After a long morning on the hiking trail, Daisy likes to decompress and recharge by taking naps on the play yard. She can usually be found in the "nap corner" with the other tired dogs. When she is not relaxing, she is usually hanging around the team member on the yard, hoping for lots of love and belly rubs.
We are so thankful to have Daisy be a part of her pack! Her calm demeanor and entertaining personality always puts a smile on our faces. We love you, Daisy!
Gracie | June 2021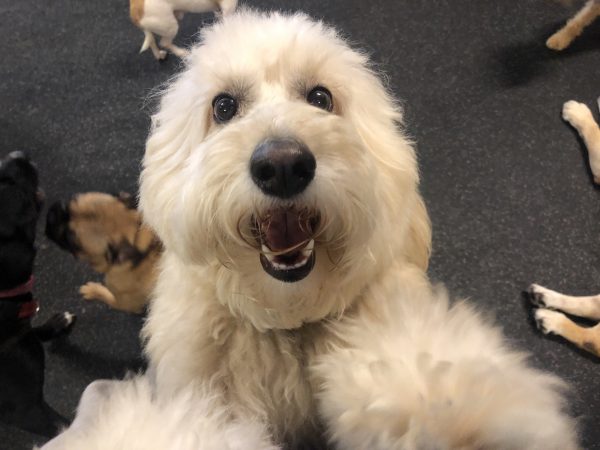 A Fitdog veteran, Gracie has been coming to our daycare for almost five years now! She practically has grown up at Fitdog and we are so lucky to get to see her every week! With an infectious smile and bubbly personality,  Gracie is as sweet as they come. She says hi to everyone she walks past and is always looking for some extra love and belly rubs.
When she's not at the club, chances are she is at the beach with our pack. A true beach dog, Gracie can be found rolling in the sand or playing fetch with her pals. She is good friends with the regular beach excursion crew, but she has a close bond with other Fitdog veterans such as Bruno, Pazi and Diego!
We are so thankful to have Gracie be a part of her pack! Her beautiful smile and outgoing personality always puts us in a good mood. We love you, Gracie!
Mango | May 2021
A member of our first Puppy Preschool graduating class, Mango has been coming to Fitdog since he was just  three months old! With his bubbly and friendly personality,  it's safe to say he is not lacking in the friend department. However, he is particularly fond of his fellow Bernedoodles, Pepper and Biscuit! Known as the "Bernestreet Boys," these three are BFFs and do almost everything together.
Although he is only a year old, Mango is already a Fitdog Sports veteran. Whether he's sharpening his mind in our training classes like Pack Etiquette and Reliable Recall, or getting some exercise during our sports classes like Fun & Fit Agility or Pool Safety, there isn't a class that he hasn't signed up for!
Between his boopable snoot, plentiful kisses and floofy cuddles, there is no shortage of love and entertainment when Mango is at the club. We love you so much! Thanks for being the best, cheers to you Mango! (Also, check out Mango's Instagram account for more fluffy goodness
@sweet_likemango
).
Dosa | April 2021
A member of our first Puppy Preschool graduating class, Dosa has been coming to Fitdog since he was just  three months old! We loved watching him over the last year grow into himself and become the happy, intelligent and lovable dog we know today!
Not only is Dosa athletic, but he is also a smarty pants! When he's not running around the agility course or splashing around the water at pool safety, Dosa can be found in our Pack Etiquette class adding to all of the training he's learned since those puppy preschool days.
Between his playful energy, constant cuddles and one-of-a-kind personality, we are so grateful to have Dosa as a part of our pack. We look forward to the many more laughs and boops in the future! Cheers to you, Dosa!
Frankie | March 2021
Frankie has been coming to Fitdog since he was a little puppy and it's safe to say he has been a wonderful addition to our pack! Whether he's lounging on the play equipment or saying hello to his furiends, Frankie is always the chillest dog on the yard.
He's a very independent dog and loves standing guard on the yard, watching the other pups play. When he's not off doing his own thing, Frankie is usually sitting with his older sister, Mollie. Although he is shy at first, Frankie is quick to warm up to humans and loves affection. He is most fond of our club rep, Brian!
This precious pup always makes our heart melt with his gentle demeanor and endless love. We are so thankful to have him in our pack and we look forward to the many more snuggles and boops. Cheers to you, Frankie!
Stevie | February 2021
Stevie has been a part of our pack since she was a little puppy and she's been non-stop ever since! From swimming in endless circles at our pool safety class, jumping through hoops at agility, playing fetch in the ocean during our beach excursions, or trekking up a hill with her friends on our canyon hikes, it is safe to say there isn't a sports activity Stevie hasn't tried out.
When Stevie isn't out on adventure somewhere, she's the life of the party at daycare! She loves to recklessly dive into the ball pit at our birthday parties and play in the yard with all of her friends! After she crashes, Stevie can be found laying in a sun patch on the yard.  Or she is found cuddling up next to her best friend and brother, Mac!
We are so thankful to have her in our pack and we look forward to the many more snuggles and funny moments. Cheers to being Fitdog of the Month, Stevie!
Cali | January 2021
Cali has been a part of our pack since she was a little puppy! She's a graduate of our puppy preschool program and has since developed into a well-trained and socialized dog. When she's not brushing up on her skills in our pack etiquette classes, Cali can be found on a hike with her Fitdog friends or in the yard strengthening her odor detecting skills during our scent works class.
After her mornings schedule packed with play time and outdoor exercise, Cali always makes sure to take a refresher nap in the afternoon. This lovable pup always give the best hugs and our team members always light up when she enters our club doors. Cheers to you, Cali!
Mana | December 2020
Mana has been coming to Fitdog for almost four years now! A regular at daycare, Mana knows the lay of the land and can usually be found perched on the play steps with a watchful eye over the yard. He is also very fashionable and is always sporting a cute bowtie!
Mana is also notorious for his feud with mops. Yes, you heard that right. Whenever it's time to clean the yard, Mana is always right there attacking the mop with despise. Watch out mops, Mana is coming for you!
Tongue out and legs splooted, Mana fits right in at his second home. He loves Fitdog so much, his owners always have to drag him out of our lobby. We love this adorable goof so much and we don't know what we would do without him in our life! Cheers to you, Mana!
Nellie | November 2020
Don't be fooled by Nellie's grumpy face, this sweetheart is always a happy pup! She loves people and you can always find her at daycare relaxing on her big bed in the team leader's office. She's usually snuggled up with her club besties, Logan, Blue and Violet, or laying at the feet of her favorite Fitdog employee, Jessica.
When she's not lounging at daycare, you can usually find her on the trail with the
canyon hike
crew. She also loves bringing out her inner shark during our
pool safety
classes. Not only is she very active, but she is also a smarty pants! Whether it's tracking down an odor in Scent Works or strengthening her touch command during
Reliable Recall
, Nellie has aced every test we have thrown her way. We are so lucky to have her be a part of our Fitdog pack! Cheers to you, Nellie!
Charlie | October 2020
Whether he's relaxing on top of the play equipment or hanging with a club rep, Charlie is always the chillest dog on the yard. He loves nothing more than a quality belly rub and cuddle session.
Charlie is a smart and active pup and when he's not hanging at daycare, he is participating in our training and sports classes. Between Canyon Hikes, Pool Safety and Fun & Fit Agility, he is always staying active. He also put his intelligence to the test and learned good behaviors in our Foundational Obedience training program. Such a good boy! We are so lucky to have him be a part of our Fitdog pack! Cheers to you, Charlie!
Queso | September 2020
This friendly and energetic golden doodle provides us with endless amounts of entertainment and love. Safe to say Queso is never bored at daycare. Between running around the yard with friends and playing rough house with the big dogs, he is always having a good time. However, his absolute favorite activity is Splash n' Play. This boy is not afraid to get wet and loves splashing around in our kiddie pool and playing fetch with the other pups.
A naturally active pup, Queso is a big fan of our sports classes. Between Canyon Hikes, Scent Works and Fun & Fit Agility, he is always staying active. One of Queso's favorite classes is Scent Works. His nose is very strong and this smart boy loves to track down the different odors.
Queso is always a joy to be around and she never fails to keep us entertained with his outgoing personality and big smile. We are so lucky to have him be a part of our Fitdog pack! Cheers to you, Queso!
Cat | August 2020
This adorable and spunky terrier mix always keeps us entertained with her high energy and sweet demeanor. While she's at
daycare
, Cat can be found running around the yard or hanging by the fence trying to sneak a peek at the big dog yard. Despite her small size, Cat has a very impressive vertical and can jump almost five feet in the air! It's mesmerizing to watch her climb the fence when she says hi to her neighbors.
Besides being super athletic, Cat is also a very intelligent pup. During break time from the yard, she loves to put her mind to work during puzzle playtime. Cat is also a very big fan of our other enriching activities such as bubble playtime and digging for treats in the ball pit.
Cat is always a joy to be around and she never fails to keep us entertained with her confident personality and silly antics. We are so lucky to have her be a part of our Fitdog pack! Cheers to you, Cat!
Blue and Violet D. | July 2020
This iconic Boston terrier duo can often be found running around the play yard mingling with other dogs or begging for pets from our team. They are not shy with showing affection and are willing to give endless amount of puppy kisses and cuddles, especially to their favorite team lead, Ashley!
True to sibling stereotypes, Blue and Violet are always fighting one second and then loving each other the next. After rough playing on the yard, they always make-up with a cuddle session during nap time. You can see an example of their classic relationship on our Instagram page.
Blue and Violet never fail to put a smile on our face and we are so lucky to have them be a part of our Fitdog pack! Cheers, Blue and Violet!
Biscuit W. | June 2020
This adorable, fluffy Bernedoodle is a frequent daycare member who is super easy going and a joy to be around. When he's not lounging in his favorite spot on the yard, Biscuit can be found hanging at the feet of our Fitdog team members begging for some cuddles.  Often mistaken for a teddy bear, it's  impossible to say no to petting the fluff.
Besides cuddles, Biscuit absolutely loves going on walks. He immediately switches from a chill pup to a very excited and wiggly one the moment he sees the leash. Biscuit brings so much joy and a calming energy to our pack, and we're so thankful for that! Cheers to you, Biscuit!
Sadie C. | March 2020
This little terrier is a frequent daycare member who brings joy to all our staff members and her fellow dogs! Sadie's favorite pastimes on the yard include playing Queen of the Mountain and participating in the loungers club. She will sometimes emerge from her throne for cuddles or pets but loves to take it easy for most of her day!
Although she is small, she has a big personality. When she gets excited, a huge smile breaks out across her face showing all of her pearly whites. Additionally, this dog has Olympic-level jumping skills. She can sprightly hop from the ground into your arms and land in a little cozy ball ready for cuddling. Cheers to you, Sadie!
Harrison Ford P. | February 2020
This handsome Rhodesian Ridgeback is a big, loving presence on the yard and well known as the gentle giant of Fitdog. Harrison can usually be found lounging in the sunny spots on the big dog yard. He loves to walk between the staff member's legs to get their attention and looks forward to going on walks.
From kindly sharing birthday cookies with his pals, to gently nuzzling himself underneath the play equipment for nap time. Additionally, Harrison is always gently inquisitive and loves to greet his human compatriots. His favorite staff member, Lane, occasionally plays fetch with Harrison when it's just them on the yard. Cheers to you, Harrison!
Joey N. | January 2020
To ring in the new decade, we are honoring Joey as Fitdog of the Month! Joey is a miniature poodle who spreads the love every time he comes to Fitdog.
Joey is a major cuddler and looks forward to getting lots of love from our staff. He loves being held and will nuzzle his head in your chest or look deeply into your soul with his adorable puppy eyes. In other words, he reinforces the absolute best part of our jobs: loving on adorable dogs!
Finnegan E. | December 2019
This Standard Poodle is a true gentleman who loves to party. When Finnegan isn't partying it up on the play yard, he can be found playing King of the Mountain with his sister Molly. He always looks forward to seeing his favorite club rep, Patrice, and gives her plenty of love and hugs. Additionally, every week he looks forward to putting his smart poodle noggin to work at agility class. Finnegan has captured the hearts of our team members, and we always look forward to seeing him at daycare. We are grateful to have such a good boy to lead the example for our other daycare members. Cheers to you, Finnegan!
Cooper H. | November 2019
Cooper is a sweet girl who's part of our regular daycare pack. When she's not playing Queen of the Mountain, she enjoys a late-night game of fetch with her favorite Fitdog team member, Jessica. True to her Pointer heritage, Cooper loves a squeaky toy and will give you her full attention for the chance to play with one. She is a sweet and gentle girl who loves to give and get love. Cooper's calming presence balances out the energy of our pack and we love her for that! Cheers to you, Cooper!
Oliver A. | October 2019
Oliver is a major cutie and always knows how to charm his way out of trouble. His little snorts and big smiles get our staff right in their heartstrings every time. Although he's tiny, his little legs pack a big punch, and Oliver can jump as high as he needs to get what he wants— whether that's a treat, a hug, or getting through an agility hoop. He's got big puppy energy and we love it! 
Walter M. | September 2019
Walter is a wiggly bulldog who lives as much for belly-rubs as he does wrestling. Walter has an infectious energy that gets the entire yard wanting to romp around and get the party going. What's bigger than Walter's appetite for play, is his heart. Walter is easily one of the biggest love bugs at Fitdog and will gladly accept belly-rubs and pets from anyone. Walter loves his brother, Max, and especially loves to cuddle with him. And while Walter loves all of our team members, his special human friend is our Shift Lead, Carmen. Carmen calls Walter her baby and Walter can often be found keeping her company while she's prepping meals. 
Leo K. | August 2019
Leo is a tiny-but-mighty Chihuahua Mix who participates in both Sports and Daycare and has charmed our team members with his undeniably cute looks and personality. This guy proves that size really doesn't matter: he keeps up with our pack in stride on the trail and revels in the enrichment of his daily activities. Whether it's hiking, agility, or a beach trip, Leo is always excited to join the party. Leo embodies everything we hope dogs get out of our program: exercise, engagement, and embracing the chance to just be a dog. Cheers to you, Leo!
Largo F. | July 2019
When Largo first came to Fitdog, he was a wily puppy on the small dog yard. And since then, he has grown in both size and confidence. These days,  Largo loves to get the party started whenever he comes to daycare, spending his time between wrestling, playing tag, and lounging. This big fluff has melted our hearts with his sweet smile and playful energy. He always makes our staff laugh with his goofy personality, and he keeps things interesting among the playgroup. Cheers to you, Largo! 
Justice C. | June 2019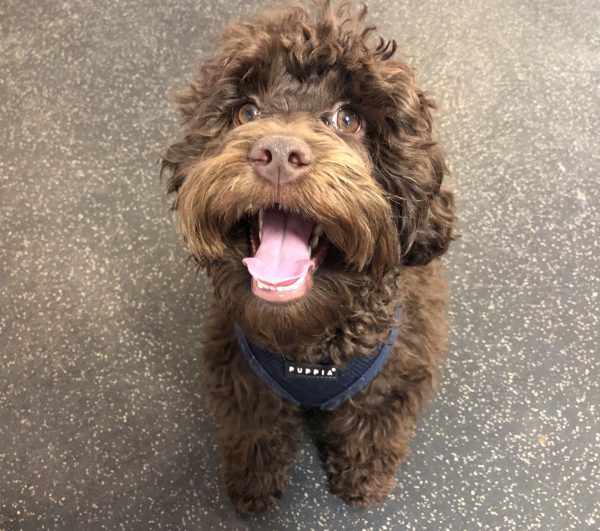 This little Labradoodle lady is a social butterfly on the small dog yard. Justice's bright spirit and happy energy lift the whole team up and we love her for that! She loves to give and receive hugs from the staff, and Arley is her absolute favorite Dog Care Attendant. When not tumbling around with her besties, Justice will happily be carried around like a baby. All around, this girl is a little ball of love and brings great energy to the pack!
Balto G. | May 2019
This loving pup is the social butterfly of the big yard, bringing even the shyest dogs out of their shell. Balto loves to wrestle and pal around on the yard. He is super friendly and greets all new members as a part of the pack. And while his loving personality is enough to win over most hearts, his "eyebrows" are really what will do you in. One little furrow of his brow turns this pup into an expressive young gent, likely to break hearts or at least talk you into giving him a belly rub or treat. Balto goes out of his way to say "hi" to everyone and makes all dogs and humans feel welcome! 
Stella P. | April 2019
Stella is the resident sweetheart of the big dog yard. As a Rottweiler, she shatters the often negative perception of her breed with her loving demeanor and gentle presence. Stella is big on relaxing, and when she's not socializing, she can be found playing Queen of the Mountain. We love seeing Stella at daycare, and she has been a wonderful member of our pack for several years. Cheers to you, Stella!
Kobe M. | March 2019
Like a river that runs deep, Kobe is the sage of Fitdog, always exuding quiet confidence and grace. Kobe is a true gentleman, always present, and has the most honest eyes. You know when you're talking to Kobe, he's listening. Unless he's napping, which he also loves. Kobe is all about self-care, taking frequent naps throughout the day to refresh and renew. This furball is a favorite among club reps for his handsomeness and loving energy. Cheers to you, Kobe!
Nia R. | February 2019
Nia is a regular daycare member, avid beachgoer, and hiking trailblazer. By looking at all her activity, one would hardly guess she's 13 years old. Nia is a standard poodle, and though she's naturally quite mellow, she lights up when she knows she's going on an excursion. Her favorite activity is going to the beach. When she is not splashing around in the waves, she prefers hiking with the Fitdog pack in the Santa Monica Mountains. We just love her adventurous spirit! Cheers to you, Nia!
Lucy P. | January 2019
Lucy comes to Fitdog almost daily and immediately announces herself when she arrives. She knows where she is going and heads straight for the yard to hang out with her friends. Lucy is particular about who she spends time with, but her BFF is her dog-twin, Violet. You can usually catch Lucy hanging out atop the play equipment with her friends. This sweet terrier mix has stolen our hearts, and we love having her in our pack! Cheers to you, Lucy!
Finny & Ruby F. | December 2018
Finny & Ruby are serious sibling goals. These corgis are like two peas in a pod and we strongly believe they have a hive mind. Finny and Ruby have been regular daycare members for several years, and we couldn't imagine our pack without them. Whether they're lounging on the play equipment or striking up a game of zoomies, these furballs are always up for a good time! Recently, they added a new member to their family, Ollie! Although Ollie is not a corgi himself, we know Ruby and Finny have taken him in as one of their own. We love Finny and Ruby for providing us with years worth of love, sploots, and corgi cuteness! Cheers to you, Ruby and Finny!
Maggie M. | November 2018
Maggie is cool as a cucumber, and you really have to earn her enthusiasm. What does earn her enthusiasm: bubbles, sunbathing, and wrestling. When she's not hanging out with her close-knit group of friends, she seeks out scratches near her butt and tail. She will spin around in front of you so you get to the spot. In addition, another fun fact about Maggie is she likes getting wind blown in her face by fans on the play yard. She is a beauty and a well-loved mellow presence on our yard. Cheers to you, Maggie!
Violet L. | October 2018
This lovable pup always brings her best energy to the play yard. Violet is a Formosa Mountain Dog. Her parents rescued her from a meat market in Taiwan at 5 months old, and she has been coming to Fitdog ever since. Violet spends most of her day playing and wrestling with other dogs. However, despite being active most of the day, she definitely takes the time to relax by sleeping under the play equipment. She is known to be a pretty deep sleeper and has been seen sleeping through some loud and crazy ruckus on the play yard! Violet is a valued member of our pack and we love her sweetness! Cheers to you, Violet!
Rufus S. | September 2018
Rufus is a tough guy on the outside, but a big lover on the inside. This Chihuahua loves to help our Club Coordinator Taylor greet guests and maintain the daily operations. Rufus always has a piece of advice to offer people and loves to express himself. Also, he has a notably adorable underbite which just adds to his tough-guy persona. Recently, he attended Cardio Tricks Class and absolutely nailed it! Above all, we love having this tiny but mighty dude among our pack. Cheers to you, Rufus!
Mack R. | August 2018
This handsome German Shepherd has a big love for the outdoors. Mack is the King of Mountains – really, Canyon Hikes are his favorite activity. So much so, that in the off chance he isn't scheduled to go, he throws a tantrum by flinging himself on the floor and refusing to move. When he is out on the trail, he gives it 100% and always takes a post-hike nap when he gets back to the Club. We have watched Mack come to thrive by doing frequent hikes. Mack is a big love bug and always gets excited to see our Sports Leaders. Cheers to you, Mack!
Oscar D. | July 2018
Oscar is enjoying his golden years alongside our Fitdog pack. He is a lover of the outdoors, always taking his time on daily walks. Outside of the Club, the big guy braved an agility class (a place no bulldog has gone before!). He was keen to take on the challenges of agility and quickly learned how to jump over the bars. Oscar also enjoys searching for treats in the ball pit. And of course, he loves his frequent spa treatments. Oscar is a favorite among club reps for his special presence. Cheers to you, Oscar!
Lulu A. | June 2018
This sassy Frenchie quickly won the affection of the entire Fitdog staff. Her big smile and even bigger attitude proved that what she lacked in size, she made up for in personality. She could often be found hanging out with Carmen, who quickly adopted her as her Fitdog baby. Lulu could always be counted on to initiate a fun game of zoomies on the yard, or a wrestling match with one of her besties. Lulu always brings her Big Frenchie Energy and we love her for that! Cheers to you, Lulu!
Capi D. | May 2018
Capi is a daycare regular who loves observing her playmates and then getting in on the fun herself. When she's not playing "Queen of the Mountain," she can be found getting love from one of the staff members or wrestling with her daycare friends. Capi has a loving and playful demeanor, and she is always excited to greet her friends. We have loved having her as a part of our pack, and we look forward to many playful days ahead. Cheers to Capi!
Luna S. | April 2018
Luna is a key member of our welcoming committee on the small dog yard. She is always the first to greet new pups or club reps on the yard. With a single ear-perk, she will steal your heart. Luna loves bubbles, outdoor walks, and playing tag. She is a real team player, and we value her sociability and the good energy she brings to the pack! Cheers to you, Luna!
Penny C. | March 2018
Penelope, better known to the team as "Penny," is a shepherd mix strongly in touch with her primal intuition. Seeing Penny out on the trail is seeing her in her natural element: smelling the shrubs, exploring new terrain. Penny is never afraid to lead the pack, and her leadership skills have earned her the right to explore on her own during hikes. We love to see a natural trailblazer thrive. Cheers to you, Penny!
Bruno D. | February 2018
You can usually catch Bruno soaking up the sun on one of our beach excursions or enjoying a canyon hike! This little trailblazer loves to adventure with our pack. True to his Jack Russell nature, Bruno is super intelligent and energetic. We love having this dude as a part of our pack!
Bernie D. | January 2018
Put plainly, Bernie is a walking dream. His eyes are honest and pure, and his gentleness can melt the iciest heart. He is an adorable fluffball with angelic curls, always there to offer cuddles to anyone who needs them. Bernie looks forward to getting walked and takes his time to smell the flowers. He always brings his A-game, from Howl-o-ween costumes to puzzle playtime activities. We are truly honored to have such a lovely dog as a regular member of our pack. Cheers to you, Bernie!
Mac K. | December 2017
This fun-loving lab is a sporty, energetic, and popular member of our pack. In typical labrador fashion, Mac thrives at swimming and catching tennis balls. He is a social butterfly at daycare, and ever since his little sister Stevie joined the pack, Mac frequently peeks over to the small dog yard to keep an eye on her. This "gold dust puppy" is incredibly smart, and often flexes his instinctual muscles when out on an excursion. We love to see Mac thrive doing all of his favorite things, and his spirit and enthusiasm bring the whole team up! Cheers to you, Mac!
Ragu V. | November 2017
Ragu is a spunky, independent Brussels/Schnauzer mix whose lovable spirit is incredibly uplifting. When Ragu first came to Fitdog in 2015, she was really nervous about being separated from her mom. Since then, Ragu has come into her own and now rules the yard. As a lady who knows what she wants, Ragu can often be found playing Queen of the Mountain and making eyes at her favorite employee, Will. When Ragu wants a change of scenery, she hangs out with the front desk Club Coordinators and makes sure everything is done perfectly. Without Ragu, we would all be slackers! Cheers to you, Ragu!
Zeppelin G. | September 2016
Zeppelin is a long-time Fitdog member and we still see him regularly! Truly, he is one of our superstar athletes. Zeppy is an active dog who loves to hike, swim, do agility courses, and play at daycare with his buddies. When he's not romping around, you can find Zeppelin sitting on top of the play equipment in daycare. The staff affectionately call him a "Hall Monitor" because he monitors the group and helps to control the pack. We love you, Zeppelin!!
Luna P. | June 2016
Luna is an energetic, sporty Golden Retriever. Her favorite activity is going to the beach. There, she splashes in waves and buries tennis balls in the sand, purely to be able to dig them back up. When at daycare, Luna is super loving and laid back, and likes to nap with her gal pals. After she gets a second wind, she's back to romping. Luna is a sweet girl who thrives in the outdoors. Cheers to you, Luna!
Teddy W. | May 2016
Teddy is the most rambunctious pug you'll ever meet. Before Teddy arrives for daycare, he has already run 3 to 5 miles with his mother. Needless to say, he likes to take it easy in the morning; he greets all of the pups coming in and naps. Then as the afternoon approaches, he gets a second wind and spends his time policing the other dogs in the play area. In addition to playtime, Teddy loves to get rubs from his favorite staff member, Ashley. Teddy likes rules and makes sure everyone is following them! Cheers to you, Teddy!
Roscoe T. | April 2016
Roscoe is a fun-loving shepherd with a big personality. He is a Fitdog regular along with his sister, Raisins. Roscoe always wears a big, goofy smile on his face and announces his arrival on the yard with a harmonious song. When he's not hanging out with his pals, he likes to "help" the staff manage the pack and requests doggy massages during downtime. The staff was quick to point out that if Roscoe thinks you're cutting his belly rubs too short, he will let you know with a 'look.'  Another fun quirk, Roscoe likes to smell the flowers on the group walks and has a special spot he takes in the sweet smells. Cheers to you, Roscoe!
Tad L. | March 2016
Tad is a loving border collie and Fitdog's resident beach bum. He loves all things water and enjoys frequent beach trips. This fluffer also participated in our first-ever Fitdog snow day and found great enthusiasm playing in the streams along the trail, as pictured above. When Tad returns from his morning excursions, he loves to curl up for a nap where he can keep an eye on the play activity. Tad is a long-time friend of Fitdog and a favorite among the staff for his sweetness and attentiveness. Cheers to you, Tad!
Ned F. | February 2016
Ned is a lovable, kind, and goofy Labradoodle. He's a dog with many nicknames including "Nedders", "Neddie", and "Nedflanders." Ned is also known for his goofy gestures. Such as, when he gets excited, he sticks his nose in the air and prances around the play area. These are referred to as "nedisms." He has previously participated in our Smooches 4 Pooches event, giving out kisses in our photo booth. Additionally, Ned always has the best Halloween costumes. We especially loved his Elsa costume, pictured above. Cheers to Ned, our Fitdog of the Month!
Porter R. | January 2016
Porter is an energetic Border Collie who loves to play, swim and eat. Since coming to Fitdog, Porter has grown into a strong pack leader. According to the Club Reps, he is not easily intimated – even by the biggest players. And having that fresh puppy face doesn't stop him from policing the other dogs. In addition to being a pack leader, Porter is a great swimmer thanks to taking our Pool Safety class! Porter's leadership skills and learning ability made him an easy choice for Fitdog of the Month. Cheers to you, Porter!
Wooford S. | December 2015
This Miniature Schnauzer steals hearts like it's his job. Wooford prefers to hang back and observe the yard during daycare. When he's not taking it easy, Wooford loves belly rubs and will do anything to get them. Being more people orientated, he will spend the majority of time following the Club Reps around. He particularly enjoys his outdoor walks and the staff notes that he's an exceptionally good walker. Cheers to you, Wooford!
Buddy V. | November 2015
If 'The Dude' from The Big Lebowski were a dog, he would be Buddy. Buddy is a Border Collie and long-time Fitdog member. He loves to curl up on the play equipment and cuddle with friends as they observe the happenings. Buddy gets super excited to go on walks and is always one of the first at the gate to get leashed up. When he's not relaxing with his pals, Buddy loves hanging with the staff and actively solicits head scratches and belly rubs. Cheers to you, Buddy!
Fiorella K. | October 2015
Fiorella (AKA "Fi") is a sweet puggle and long-time friend of Fitdog! She arrives daily with her Dodgers lunchbox after taking her time to smell the outdoor flora. She then kisses her friends "hello" on the yard. Although Fi is super social, she has a tight-knit group of pals she plays with on the daily. In the afternoon, she enjoys dinner time and is known to be a super fast eater. After her meal, she will curl up and relax. When she's happy, she does a little twirl that almost looks like she's chasing her own tail. Fiorella always brightens our day! We love you, Fi!
Jax H. | September 2015
This Weinheimer is happy beating to his own drum. Jax is a quintessential "Hall Monitor" and assists the Club Reps with monitoring the playgroups. He stays by their side all day and will jump into the action when he feels the dogs are not listening properly. Jax also gives updates to the Club Reps on the pack's activities to ensure everyone is on their best behavior. Consistent with his Type A personality, Jax maintains a regular exercise program to stay healthy and fit. In the mornings, he takes laps around the play area for a mile run followed by a routine of stretches and yoga throughout the day. Cheers to you, Jax!
Mokey V. | August 2015
Mokey is a playful, active Viszla who first came to Fitdog at just four months old! When not running around, Mokey would hang out with her BFF Elena, our former groomer who has now passed on. Mokey perked up when she saw Elena and loved to spend her downtime curled up in the grooming room.  Not many dogs enjoy the loud noises from the dryer and clippers, but Mokey loves her spot and didn't want to be anywhere else. The Club Reps say that Mokey always looks poised and regal when she's taking it all in and likes to cuddle like a cat by rubbing her body against you. Between her high energy and bright personality, she is a Fitdog favorite. Cheers to you, Mokey!
Bear S. | July 2015
Bear is a high-energy, playful Dalmatian mix. He always has a blast playing with his friends and understands tons of non-verbal cues despite his deafness. When he's not paling around, Bear is obsessed with lights and shadows and is fascinated by movement. The Club Reps shine lights on the walls to entertain Bear in the afternoons. After he's totally tuckered out, Bear loves his late afternoon nap and no one or nothing can disturb him from his peaceful slumber. This happy-go-lucky guy was an obvious choice for Fitdog of the Month! Cheers to you, Bear!
Finley J. | June 2015
Finley is a smart, social Labrador Retriever. During his time here, Finley befriended his doppelganger Herman, and the two became nearly inseparable. Finley is known for being a smart, talkative fellow. He is very vocal with the Club Reps to make sure he gets a constant flow of belly rubs and attention. Finley is also keen on taking instructions and easily follows commands. His playfulness and bright energy made him great for Fitdog of the Month. Cheers to you, Finley!
Cali P. | May 2015
Cali is an adorable Brussels Griffon who loves to socialize with dogs and humans alike. When she's not enjoying wrestling, wiggling, or taking walks, Cali can easily get loved on by the staff by batting her little eyelashes. She's been featured in many of our campaigns over the years, including this Howl-O-Ween video. Cali will often patrol the fence on the play yard to talk with her large dog friends. We love seeing Cali's cute face every day, and she certainly sparks joy for everyone she meets! We love you, Cali!
Montana P. | April 2015
Montana first came to Fitdog at just four months old! When he first comes into daycare, he sprints around the play area a few times to burn off some steam, then settles in with his friends. Montana takes his role in the dog pack very seriously. You can find him on the top of the play equipment mindfully watching over all of the pups and making sure everyone is playing nicely. And when he's not presiding over the group, you can find him following the Club Reps around until he gets some much needed back scratches.
Summer R. | March 2015
This beauty queen of a Golden Retriever has been coming to Fitdog for a long time! Summer loves to love, and will happily squeeze herself between the legs of staff members to get a full back rub. In addition to being a daycare superstar, Summer loves to go on beach excursions and hikes. She regularly participates in Howl-o-Ween and has been featured in our ads over the years. This girl loves to play, but what she loves even more? Marshmallows. She makes us laugh and smile on the daily, and definitely deserves her Fitdog of the Month nomination. We love you, Summer!!
Max M. | February 2015
Max is a big teddy bear of a shepherd mix, and we are lucky to still see him often! When Max is not playing "hall monitor" on the yard, he will sing to the staff in exchange for belly rubs. Max is a very loyal big bro to Walter, his wily bulldog brother. When he's not playing on the yard or at the beach, Max loves a good cuddle. His bright personality and goofy grin earned him his spot as Fitdog of the Month. Cheers to you, Max!
Penny C. | January 2015
Penny is a sweet-natured Yorkshire Terrier and long-time pal of Fitdog. When she enters the play yard, she kisses all her friends on the nose. Her trot is light as a feather and her little kisses are so sweet. Penny is a really special girl, and her family rescued her from a puppy mill years ago. Her favorites pastimes include cuddling with friends Ike and Bambi and winning the hearts of all our staff. Penny's spirit shines through to us every day, and we love her for that! Cheers to you, Penny!
Blaze D. | December 2014
Blaze is the sweetest sweetie pants who ever graced Fitdog. Before his family moved out of town, Blaze was a Fitdog regular. His looks are somewhere between Labrador Retriever and Arctic seal pup. His demeanor, always delightful. Blaze is a gentle guy who would get so excited to see staff and dogs alike, that sometimes he would pee out of excitement. Blaze could go from cuddling with staff to romping with friends without missing a beat. His presence is dearly missed! Cheers to you, Blaze!
Herman L. | November 2014
Herman is Big Lab Energy, all the time. Hermy is an energetic Labrador Retriever with an affinity for zoomies and dunking his head in water buckets. A big goofball, Herman is always making the staff laugh with his personality. Fitdog has known Herm since he was a couple of months old, and we watched him go through all the adorable phases of puppydom and grow into an outdoorsman. Nowadays, Herman loves to go to the beach and hike. We miss seeing his big personality around Fitdog, but we will always remember the Herminator! Cheers to you, Herman!
Mollie K. | October 2014
This Frenchie has lots of energy and wants to be wherever there is action. Mollie is known for running full speed and then coming to an abrupt halt. When she's not bolting up and down the play area, Mollie likes to roll around on her back waiting for belly rubs from our Club Reps. Mollie also makes all of the cute snorts and snuffs of a French Bulldog. She snorts when she's happy and snores when she's taking a nap.  She is also ticklish! When you tickle her belly, she makes a funny bark that is mixed between a bark and a giggle. Her quirky style always makes her fun to have around. Cheers to you, Mollie!
Bambi L. | September 2014
Bambi, AKA "Bambino," is a 4 lb. Chihuahua. What she lacks in height or weight, she makes up for in heart. Bambi has been a long-time friend of Fitdog. She is famous for her waddle-run, where it looks as though her front legs are sweeping in circles when she runs. Bambi's spunky personality and overall cuteness have melted many hearts. She brings great energy to our pack, and we're grateful for that! Cheers to you, Bambi!
Callie W. | August 2014
Callie is an athletic shepherd mix and was a long-time daycare member. Between rounds of tag and wrestling, Callie could be found giving love to her BFF, Cali L. The two Cali's were inseparable, ruling the big dog yard with their Queendom. This pup was also super affectionate towards staff, often looking to them for mid-day cuddles. Callie always brought her best energy to the yard, making her an easy choice for Fitdog of the Month! Cheers to you, Callie!
Celestine K. | July 2014
Celestine is a crazy corgi and the life of the party! This floof always starts a bout of tag on the yard with fellow corgis, Finny and Ruby. Celestine is also now the big sister to Abbadon, and if we could guess, she's probably the boss of him as well. When Celestine is not enjoying outdoor walks or wrestling with her pals, she loves to play fetch. Though many people don't think of corgis as an active breed, Celestine proves that stereotype wrong. She can book it across the yard in a heartbeat and can run alongside the most athletic breeds. Cheers to you, Celestine!
Charlotte A. | June 2014
Charlotte is a lovable pug and long-time daycare regular at Fitdog. Her many interests include bully sticks, belly rubs, and playing "Queen of the Mountain." For a long time, Charlotte could be found being courted by her boyfriend Ike, a Jack Russell Terrier. She is a master at the treadmill and would exercise on it frequently. There is so much to love about Charlotte, and her calming presence made her an obvious choice for Fitdog of the Month! Cheers to you, Charlotte!
Tootsie N. | May 2014
Tootsie (AKA "Tootsie Pop") is another long-time Fitdog member. This high-energy pup is always down for a romp on the yard, but she especially loves to go on hikes and to the beach. Although her love of the outdoors is great, no love will be as great as her love for our former club manager, Terrance. Any time they would lock eyes, her tail would go a mile a minute. Tootsie is a wonderful big sister to Rooney, who she's shown around the yard with confidence and grace. Tootsie's spirit shines brightly. Cheers to you, Tootsie!
Rufus F. | April 2014
Rufus (AKA "little nugget") was a long-time daycare regular at Fitdog. This beagle mix instantly melted the hearts of all who he met. Rufus enjoyed many wrestling matches on the yard, games of tag, and cuddles with his lady friends. When getting a belly rub, Rufus would often start letting out these really funny noises that sounded like a song. One of his favorite pastimes includes sunbathing on the yard in the afternoons. Rufus's positive energy and cuteness made him the obvious choice for Fitdog of the Month. Cheers to you, Rufus!
Radar W. | March 2014
Radar is a long-time friend of Fitdog and frequent daycare member. He is super kind and loving towards dogs and humans alike. Radar is especially fond of the staff and nuzzles his snout underneath their arms and elbows in order to elicit more cuddles and hugs. It is also noted by the Club Reps that he loves his daily walks so much that he always goes out in the first group because he gets so excited. Radar is a stand-up guy and brings his best energy to daycare. Cheers to you, Radar!
Oakley G. | February 2014
Although Oakley is no longer with us, his memory lives on at Fitdog! Oakley was a kind, sweet, gentle Cocker Spaniel with a heart of gold. He was in his senior years with us at Fitdog, but his age never slowed him down or kept him from enjoying life. Oakley would run to the gate every morning, excitedly pawing the fence ready to play. But first, he would always make sure to roll over for full-body pets, rubs, and scratches. Oakley's tenacity and golden heart earned him this spot as Fitdog of the Month. Cheers to you, Oakley!
Charlie M. | January 2014
Charlie is a high-energy chocolate lab that could play for hours on end! When on the play yard, Charlie loves to alternate between games of tag and snuggling at the club rep's feet. He will befriend anyone, making him very popular amongst the big dogs. Charlie thrives on the hiking trail and we've seen him transform from a wily pup to a well-mannered guy. Cheers to you, Charlie!
Ike B. | December 2013
Ike, AKA "Baby Ike," is a Fitdog heartthrob and quintessential Jack Russell Terrier. He has been a long-time member of Fitdog, participating in Howl-o-ween, parties, and regular daycare happenings. Baby Ike had a long-time girlfriend Penny, who he would spend long afternoons cuddling with. Their current status is unconfirmed, but we know they'll always have love for each other. When he's not courting a lady, Ike can be found protecting the small dog yard from the big dogs on the other side. Ike's cuteness and overall personality made him an easy choice for Fitdog of the Month. Cheers to you, Ike!
Molly E. | November 2013
If there's a person out there who hasn't had their heart captured by Molly, we haven't met them yet. Molly is the epitome of sweetness, a real gentle soul with a loving heart. Molly is an expert at walking on a leash and a new big sister to her brother Finnegan. Though she is shy at first, Molly will melt into your lap for cuddles and pets if you give her enough time. Her pure energy is enough to turn anyone's day around, and for that, we named her Fitdog of the Month. Cheers to you, Molly!
Isabelle S. | October 2013
Isabelle is a loving lab mix with a penchant for belly rubs. She loves walks, wrestling, and playing tag with pals Summer and Finny. Isabelle has been with us a long time, and we have loved watching her grow into a graceful young lady! Isabelle likes to keep things orderly on the yard, and always works for the good of her fellow dogs. We would definitely vote Isabelle as our local representative, so it was easy to vote for Isabelle for Fitdog of the Month. Cheers to you, Isabelle!
Hershey & Scruffy | September 2013
Hershey & Scruffy are old friends of Fitdog. In fact, they were part of our original Runner's Group back when we first opened. These brothers enjoyed many overnight stays and joyful daycare dates. Hershey is super social. He spends his days wrestling with his best pals while Scruffy likes to explore and welcome new members to the club. Scruffy is definitely a lover (not a fighter). He prefers hanging out with the staff for some extra TLC. Both enjoy sunbathing and eating their ultra gourmet meals at dinner. Cheers to you, Hershey and Scruffy!
Leo R. | August 2013
Leo is a fun-loving Boston Terrier who knows Fitdog like the back of his hand. When boarding, Leo knows how to show himself from the yard to his den for mealtimes and naps. He is happy to bring his younger brother Cooper along to show him the ropes of the facility. Leo's favorite past times include playing tag, cuddling with toys, and long walks with staff members. Leo is a bright-spirited pup and a real team player. Cheers to you, Leo!
Jaxson M. | July 2013
Jaxson is a boxer and another long-time daycare member of Fitdog. This playful guy is one of our more high-energy big dogs, making him a fun playmate for many of his dog friends. Jaxson loves to play in classic boxer style (yeah, actually boxing) and always announces himself on the yard. His goofiness puts a smile on everyone's faces. If you ever meet him, say hello to this Fitdog of the Month, and if you're lucky, you might just get one of his big bear hugs. Cheers to you, Jaxson!
Chewie S. | June 2013
Chewie, named after Chewbacca, is a long-time member of Fitdog. This fluffer enjoys maintaining order on the yard and getting lots of love from the staff. He is quite social and gets to know many of the dogs he encounters. When boarding, Chewie's cuteness really comes forward, as he loves to cuddle. Chewie will often stand close to the fence to protect the yard from "big dog intruders." We love this little fluff and have enjoyed having him as a Fitdog member all of these years. Cheers to you, Chewie!
Luigi R. | May 2013
They say a week without Luigi is like a week without sunshine, and they aren't wrong. Luigi (AKA Big Luigi) is a golden retriever and a favorite among dogs and humans alike. Upon arriving at the club, Luigi enjoys a wrestling match with his friends before his daily nap. Luigi likes to situate himself in the center of the yard whenever possible to make sure everyone on the webcams can see him. Luigi can brighten anyone's day with the slightest tail wag, making this big lover an easy choice for Fitdog of the Month. Cheers to you, Luigi!!
Charlie L. | April 2013
Mr. Charlie is a big Goldendoodle with a bigger heart. From the time he was old enough to go to daycare, Charlie has been a Fitdog regular. He is one of the first pups to greet staff members in the mornings. When he's not at daycare, playing "King of the Mountain," he enjoys walks, pack adventures, beach excursions, and hikes. Charlie loves to give hugs and is not shy about putting his paws on both of your shoulders. Perhaps the cutest thing about him? This gentle giant loves his cheese slices. Giving Charlie Fitdog of the Month was truly a no-brainer. We love you, Charlie!!
Tanner K. | March 2013
Tanner is a spaniel mix who in his time was known as our welcoming committee. This furball is always one of the first dogs to enthusiastically meet new club members and staff as well. A frequent lounger, Tanner has enjoyed many afternoons chilling on the play equipment with his pals on the small dog yard. Tanner's friendly and welcoming attitude won him his Fitdog of the Month nomination. Cheers to you, Tanner!
Franklin H. | January 2013
Franklin is a playful Australian Shepherd with two notably different colored eyes. His cuteness is complimented by his friendly, playful demeanor. Franklin is notorious for how high he can jump when he gets excited, especially when he sees his owner. Franks is a social butterfly, starting his day by romping around with his besties before curling up for a mid-day snooze. Franklin's energy really helps level out the pack, and we love him for that! Cheers to you, Franklin!
Nana | December 2012
Nana is a Beagle who hails from South America. She is very active in both the large and small dog play areas. Known by the Club Reps as the Queen B, or should we say, Queen N, she has a very select friend group! No one plays with Nana unless invited first. When she's not running around or ruling the play areas, she likes to gaze out of our windows and really enjoys her mid-day naps.
Jessie & Luna W. | November 2012
From beach excursions to spa treatments and weekend staycations, these girls were well known in their time at Fitdog. Despite being sisters, their personalities couldn't be more different: Luna is a social butterfly and loves playing and wrestling with all her peers. Jessie takes herself more seriously at the club but loves to let loose on hikes. We will always love their sisterly love for one another. Cheers to you, Jessie and Luna!
Gus W. | October 2012
There have been few instances throughout Fitdog history where dogs are adaptable enough to play on both the large and small dog yards. However, Gus is one of those dogs. Gus loves bubbles, romping around, and lounging in the sun. Gus is a true charmer, as he is friends with everyone and gains the affection of all humans he encounters. We still see him from time to time and he always brings the party! Cheers to our Fitdog of the Month, Gus!
Bowie H. | September 2012
Bowie is a long-time club member who we love seeing on the regular. He is your typical beagle: incredibly smart, intense sense of smell, and a lovely singing voice. This pupper is known to howl on the yard, resulting in several instances where he gets the entire yard howling in tune with each other. It's almost like he's leading a chorus, which we believe his namesake, David Bowie, would highly approve of. Most notably, Bowie is a sweetheart who loves puzzles, walks, and cuddles, making him an easy choice for Fitdog of the Month. Cheers to you, Bowie!
Cali L. | August 2012
Cali L. is a lovely Malinois and long-time member of Fitdog. She came to daycare for many years before graduating to a sports-based program that better fit her personality. Cali is well-known among staff members for coming into the lobby every morning with the most energetic butt wiggle you've ever seen. This pup is super affectionate towards humans and enjoys playing fetch and tag with her fellow dogs. Her smile and notorious wiggle earned her a place in our hearts forever! Cheers to you, Cali!
Prince Jr. | July 2012
Prince Jr. is a sassy Miniature Pinscher whose personality lifts the spirits of dogs and humans alike. This pup is named after his big Doberman brother, Prince, and has been coming to Fitdog since we opened in 2010. He can jump impressively high (almost 5 feet!) and does the fastest zoomies you'll ever see. And when Prince Jr. is ready for a nap, he'll find a fellow playmate on the yard to curl up with for a snooze. Prince Jr. is a little mischevious and we love him for exactly that reason. He brings great energy to the yard, and his Fitdog of the Month nomination was a no-brainer. Cheers to you, Prince Jr.!
Cleveland M. | June 2012
If ever there was a model citizen of a dog, Cleveland is it. Cleveland is truly a stand-up guy, good-natured, and well-trained. He loves swimming, hiking, and playing with his brother Grover. Cleveland is famous for being able to do a "downward dog" stretch on command. On the play yard, Cleveland has mastered the play/naptime rotation to maximize his time. And when he does nap, he likes to go under the play equipment to keep an eye on the other dogs while he rests. Cleveland has been with us for a long time, and his election as Fitdog of the Month comes naturally. Cheers to you, Cleveland!
Finnegan B. | May 2012
Plain and simple, Finnegan is original Fitdog. This crazy dude has been with us in the beginning, immediately capturing the hearts of all who he encounters. Finnegan is known for his poised posture, gentle trot, and wild mohawk. He is a favorite among club reps and a famously picky eater. You always know when Finnegan is pulling up to the club because you'll hear him hollering from the passenger side of his mom's car. We look forward to Finnegan announcing himself whenever we see him to this day. His Fitdog of the Month nomination is well-deserved. Cheers to you, Finnegan!
Frankie J. | April 2012
Frankie is a long-time friend of Fitdog! This little dude enjoys his overnight stays at the Club, where he plays with his mates on the small-dog yard. Frankie loves getting to know his dog and human friends alike, and he is super playful and friendly. He is a curious boy and will always stick his nose in your camera if you try taking his photo. In addition to playtime, Frankie looks forward to his walks and his daily eye wipes. We love having Frankie in our pack, and he was an easy choice for Fitdog of the Month. Cheers to you, Frankie!
Dallas | March 2012
Dallas is an Alaskan Klee Kai and regular Fitdog member. This sweetheart will melt your heart with her signature puppy eyes and sly smile. When she's not lounging with friends or playing Queen of the Mountain, Dallas can be found enjoying belly rubs from the staff. She is a friendly girl who is always there to lend an ear, a paw, or one of her signature silent barks. Dallas is a highly valued member of our pack and we just adore her. We are happy to honor Dallas as Fitdog of the Month. Cheers to you, Dallas!
Brooklyn B. | February 2012
Brooklyn has been with us since the very beginning. He absolutely loves going to the beach and values his seaside time greatly. "Brookie" as he's known is always there to offer a hug or a high-five and loves to get attention from the staff. He has a cute dance he does when excited, where he stands on his two back legs and throws his hands in the air. Another Brooklyn fun fact: he is famous for his backpack harness, which allows him to be picked up like a suitcase from the top of the harness (don't worry, it's cute and doesn't hurt him). In fact, his harness has come in handy a couple of times when he was trying to "protect" his owner from passersby ;). We love this dude and he was an obvious choice for Fitdog of the Month! Cheers to you, Brooklyn!
Izzy V. | January 2012
Izzy is a sweetie pie Staffordshire Bull Terrier. Things that bring on her big smile include playing at daycare and going to the beach, where she loves to run on and roll in the sand. At daycare, she can be found wrestling or perched on the play equipment. Izzy has been coming to Fitdog for a long time, and she is a highly valued member of our pack! We wish anyone who is afraid of Bull Terriers could meet Izzy, because we know their minds would be changed for good. This pure-loving creature will give anyone a wiggle and a hug, and she was an easy choice for Fitdog of the Month. Cheers to you, Izzy!
This blog is updated monthly as each former Fitdog of the Month graduates to the Fitdog of the Month Hall of Fame. FDOTM has been happening at Fitdog Club for several years and some elected dogs have gotten lost in the shuffle. If you see your dog has been left off this list, please let us know!