Los Angeles is proof that dogs are not just pets but an extension of our families. Between the plethora of rescue organizations, to enrichment programs, boutiques, and barky brunches, it's safe to say that dogs are more important to us than ever before. And because dogs are such a part of our lives, businesses have learned to accommodate them. And why shouldn't they? In fact, dogs might be the perfect partner for a place like LA: dogs are always happy, they love adventures, they don't gossip, and you can snuggle together when the day is over. Dogs can make a big, unusual city feel like home.
It may come as no surprise that there are always plenty of dog-friendly events going on in LA. No matter what neighborhood you live in, or what your interests are, there is something for you and pups to do. In the spirit of promoting dogs and humans living their best lives, we put together this guide to the best dog-friendly events in Los Angeles. 
Bookmark this page if you want to stay up to date on the latest dog-friendly events in Los Angeles!
This post contains affiliate content.
Health & Wellness
Veterinary Services
Microchip Mondays | Culver City | Recurring | 12:00 PM – 8:00 PM
Adopt & Shop offers $10 Microchip Mondays, making it affordable for pet owners to microchip pets. In the event that your dog goes missing, shelters can scan your dog's microchip and contact you when they are found. This service is totally worth it, just as long as you keep your information current. Microchip Monday is a recurring event at both Adopt & Shop locations: Culver City and Lakewood. Learn more here.
Smile Specialists Dental Clinic | Santa Monica | Tuesday, December 17th | 11:00 AM – 1:00 PM
Smile Specialists comes to Fitdog Club on the third Tuesday of every month to perform anesthesia-free dental cleanings. The cleanings are gentle, safe, and effective in maintaining good oral health for your pets. The procedure takes no more than a half-hour. Call (310) 828-3647 to book your appointment.
Training
Holiday Tricks Workshop | Playa Vista | Sunday, December 8th | 11:00 AM – 12:00 PM
"Is your pup a party animal? Get ready to impress family and friends. Join us to teach your pet a few new tricks this holiday season." Learn more here.
Fun Activities
Brecken and Rhonda do an agility demonstration at the California Science Center's current exhibit, Dog's! A Science Tail
Dogs! A Science Tail | California Science Center | Open until January 2020
Sniff out the science behind our puppy love! 🐶💙 Let curiosity be your guide and discover life from a dog's point of view at the California Science Center's new special exhibition Dogs! A Science Tail. Fitdog will be doing awesome agility demonstrations here through the rest of the exhibit. So come on by to learn activities you can do with your dog, and say hello to us! SAVE UP TO 20% ON ADMISSION with online promo code TREAT. Tickets and details.
Santa Paws Dog Photos | Canoga Park | Sunday, December 8th | 11 AM – 2 PM
"Capture the howliday magic this season! Join Westfield Topanga and Healthy Spot for a holiday-themed photo experience with Santa and your pup, and receive a picture-perfect for any holiday card. Send your howliday best! All proceeds benefit Operations Blankets of Love." Learn more here.
Ugly Sweater Pawty | Santa Monica | Wednesday, December 11th | 5:00 – 8:00 PM
Join us for our Ugly Sweater Pawty on December 11th! It will be a festive night full of games, (human and dog) treats, a Holiday-themed Photo Booth, awesome vendors, food and drinks! Plus, you can enter our raffle by donating food to our 2020 Food Drive and have a chance to win awesome prizes! RSVP here!
Happy Pawlidays 2019 | Beverly Hills | Saturday, December 14th | 11:00 AM – 2:00 PM
"On December 14th, celebrate the holiday season at Sofitel Los Angeles at Beverly Hills alongside your beloved furry friends. Join Santa Claus for a pet photo-op with hot apple cider, Yule log, and holiday treats for the entire family." Learn more here.
Street Food Cinema | Los Angeles | Recurring Dates | 8:30 PM
Join Street Food Cinema for one of their many dog-friendly screenings around LA! While most venues allow dogs, please check specific details for each event. Pack a picnic or check out one of their many featured food trucks for an awesome night. Bring your friends, or make it a date for you and your dog.  Learn more here.
Adoption & Volunteer Events
Home for the Holidays Adoption Event | West LA | Sunday, December 8th | 12:00 – 3:00 PM
"Join Wags & Walks, Sunday, December 8th at the Wags & Walks Adoption Center, for a Home for the Holidays Adoption Event! Enjoy ornament painting, stocking decorating, sweet holiday treats and fun for the whole family. You might even find yourself a new furry friend!" Learn more here.
Puppies & Tacos Event | Santa Monica | Saturday, December 14th | 2:00 – 6:00 PM
"There will be pooches to play with (and adopt!!), tacos for purchase, games and more! Event will be kid-friendly and dog-friendly. 100% of proceeds raised will go to Lange Foundation (registered non-profit for animal care, rescue and placement), and Metro Cafe (registered non-profit coffee shop serving the city of Santa Monica in a variety of ways, largely assisting the homeless population)." Learn more here.
Pawliday Market | Playa Vista | Sunday, December 15th | 11:00 AM – 3:00 PM
"Visit the Pawliday Market at Annenberg PetSpace, featuring a variety of vendors offering purr-fect presents for everyone on your shopping list! Whether you're looking for the ideal pet accessory, a sweet treat, or gifts for someone special, you'll find plenty of great options that the whole family will love. During the shopping experience, make sure to enjoy additional crafts and kid-friendly activities as well." Learn more here.
Wags & Walks Volunteer Orientation | West LA | Recurring dates
Interested in volunteering with animals? Wags & Walks is hosting a volunteer orientation! Learn the ins & outs of their volunteer program and meet fellow dog lovers! Learn more here.
Yappy Hours, Fundraisers, & Dining
Barky Brunch at LACMA | Miracle Mile | Every Saturday & Sunday | 10 AM – 3 PM
Every Saturday and Sunday, Ray's at LACMA offers a Barky Brunch menu in addition to their human-friendly fare. Enjoy a boozy brunch before strolling the grounds where you can see famous installations such as Urban Light, and the naturally occurring La Brea tar pits. Only service animals are allowed inside LACMA.
Read Ginger's review of LACMA's Barky Brunch here!
Yappy Hour: Sips + Treats for you and your dog! | Santa Monica | Thursdays in December | 5:00 – 6:00 PM
"Sip and snack with your favorite friend at the Malin and Goetz Montana location! Every Thursday this month they will have a Yappy Hour at 5 PM. Come and unwind with a drink and your furry friend." Learn more here.
"Stand Pup Comedy Night" Holiday Show at The Dog Cafe (Shelter/Rescue) | Silverlake | Friday, December 6th | 7:30 PM – 9:30 PM
"Play & Cuddle with our pups while destressing laughing at our awesome lineup and you can even apply to adopt or foster if you are looking for some loving companions in your life. Adult beverages (beer and wine) will be making an appearance too. We are a non-profit dog rescue whose mission is to revolutionalize dog adoptions." Learn more here.
Jingle Bell Run | Glendale | December 14th | 8:00 AM – 11:00 AM
"Mark your calendars for Jingle Bell Run! This dog friendly event will be held from 8 AM to 11 AM on December 14, 2019 at Woodley Park Section 1 in Los Angeles, CA, US. Admission is varied based on registration." Learn more here.
Mutt Scouts Holiday Fundraiser | Culver City | Sunday, December 15th | 1:00 – 5:00 PM
"This will be our biggest event of the year – there will be food trucks, bars, lawn games, live music, a photo booth, AMAZING silent auction & raffle, Mutt Merch and more!" Learn more here.
Mutts & Mimosas Holiday Mingle | West LA | Sunday, December 15th | 11:00 AM – 1:00 PM
"It's time to be hairy, merry and bright! No matter how you celebrate the holidays, bring your pup and pawty with us at Healthy Spot!" Learn more here.
Are we missing your awesome dog-friendly event on here? Email socialmedia@fitdog.com to let us know!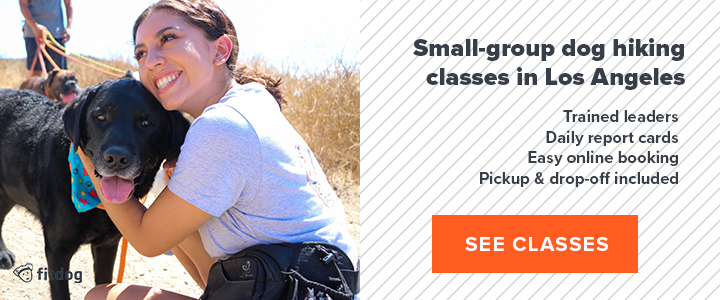 Last updated on December 1, 2019.