Los Angeles is proof that dogs are not just pets but an extension of our families. Between the plethora of rescue organizations, to enrichment programs, boutiques, and barky brunches, it's safe to say that dogs are more important to us than ever before. And because dogs are such a part of our lives, businesses have learned to accommodate them. And why shouldn't they? In fact, dogs might be the perfect partner for a place like LA: dogs are always happy, they love adventures, they don't gossip, and you can snuggle together when the day is over. Dogs can make a big, unusual city feel like home.
It may come as no surprise that there are always plenty of dog-friendly events going on in LA. No matter what neighborhood you live in, or what your interests are, there is something for you and pups to do. In the spirit of promoting dogs and humans living their best lives, we put together this guide to the best dog-friendly events in Los Angeles. 
Bookmark this page if you want to stay up to date on the latest dog-friendly events in Los Angeles!
This post contains affiliate content.
Health & Wellness
Veterinary Services
Microchip Mondays | Culver City | Recurring | 12:00 PM – 8:00 PM
Adopt & Shop offers $10 Microchip Mondays, making it affordable for pet owners to microchip pets. In the event that your dog goes missing, shelters can scan your dog's microchip and contact you when they are found. This service is totally worth it, just as long as you keep your information current. Microchip Monday is a recurring event at both Adopt & Shop locations: Culver City and Lakewood. Learn more here.
Smile Specialists Dental Clinic | Santa Monica | Tuesday, March 17 | 11:00 AM – 1:00 PM
Smile Specialists comes to Fitdog Club on the third Tuesday of every month to perform anesthesia-free dental cleanings. The cleanings are gentle, safe, and effective in maintaining good oral health for your pets. The procedure takes no more than a half-hour. Call (310) 828-3647 to book your appointment.
Fun Activities
Pet Photography Lecture and Hands-On Workshop with Anabel DFlux | Santa Ana | Saturday, March 14 | 11:00 AM – 4:00 PM
"Join Anabel DFlux for the day and learn ten easy steps to improve your pet photography: from working with the hyper, the untrained, the unruly, or the camera shy-you'll be an expert on bringing out their best sides." Learn more here.
Morning Magic at DEN | Glendale | Saturdays in March | 11:30 AM – 12:00 PM
"Every Saturday at 11:30 am, we're creating a space for the DEN community to decompress from the week and realign to love – with our dogs by our side, of course." Learn more here.
St. Pawtrick's Day Play Date | West LA, DTLA, Studio City | Sunday, March 15 | 4:00 PM – 6:00 PM
"It's pawty time, you lucky dog! We're celebrating St. Pawtrick's Day with a whole roster of activities including treats + sweets for people and pups, Puppy Chug Contest, St. Patrick's Day Costume Contest, off-leash playtime & more!" Learn more here.
Doga | Culver City | Sunday, March 15 | 11:00 AM – 12:00 PM
"Join us Sunday, March 15 from 11a.m-12p.m. for Doga! That's right — we're hosting a yoga class with dogs. The event will be held at Adopt & Shop Culver City and we're asking for a minimum donation of $25. Look forward to plenty of our adoptable pups! So stop on by and get your zen on!" Learn more here.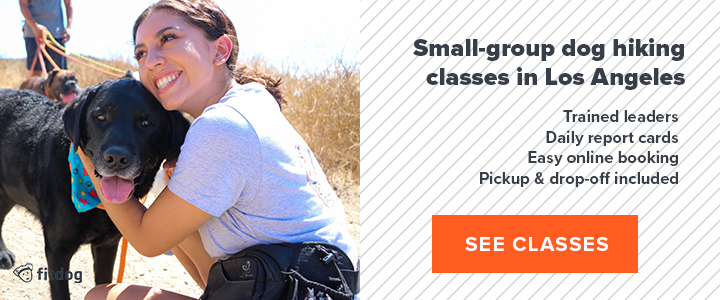 Adoption & Volunteer Events
Wags & Walks Volunteer Orientation | West LA | Recurring dates
Interested in volunteering with animals? Wags & Walks is hosting a volunteer orientation! Learn the ins & outs of their volunteer program and meet fellow dog lovers! Learn more here.
Wags Kids! Paws & Pajamas | West LA | Saturday, March 14 and March 29 |
"The benefits of reading to shelter dogs have long been praised by educational programs and rescue organizations alike. Wags Kids! is proud to announce the launch our very own reading program, Paws & Pajamas, hosted bi-monthly at our adoption center"  Learn more here.
30-Minute Beach Cleanup | Long Beach | Every 3rd Saturday of the month | 10:00 AM
"The 30-Minute Beach Cleanup Meets on the third Saturday of each month at 10 a.m. at Rosie's Dog Beach in Belmont Shore, to help rid the beach of trash and debris. Dogs and all ages welcome. Free trash bags, gloves, door prizes, volunteer credit forms and refreshments." Learn more here.
Yappy Hours, Fundraisers, & Dining
Barky Brunch at LACMA | Miracle Mile | Every Saturday & Sunday | 10 AM – 3 PM
Every Saturday and Sunday, Ray's at LACMA offers a Barky Brunch menu in addition to their human-friendly fare. Enjoy a boozy brunch before strolling the grounds where you can see famous installations such as Urban Light, and the naturally occurring La Brea tar pits. Only service animals are allowed inside LACMA.
Read Ginger's review of LACMA's Barky Brunch here!
Yappy Hour: Sips + Treats for you and your dog! | Santa Monica, Larchmont, Los Angeles  | Thursdays in February | 5:00 – 6:00 PM
"Sip and snack with your favorite friend at the Malin and Goetz Montana location! Every Thursday this month they will have a Yappy Hour at 5 PM. Come and unwind with a drink and your furry friend." Learn more here.
"I Look Like My Dog" Contest & Dinner | Santa Monica | Sunday, March 8 | 4:00 – 6:00 PM
"On March 8, 2020 at Spitfire Grill in Santa Monica join the Wine and Dine Doggies Meetup group for their very first "I Look Like My Dog" contest and an early Sunday dinner! The winners of the contest will be awarded an official certificate and fun prizes!" Learn more here
Hamburger Mary's Drag Queen Bingo | West LA | Thursday, March 12 | 7:00 PM – 9:00 PM
"Join Wags & Walks at Hamburger Mary's for a night of Drag Queen Bingo! There is a suggested $20 donation at the door – and promised good times inside!" Learn more here.
Stand "Pup" Comedy Night | Silverlake | Friday, March 20 | 7:30 PM – 9:00 PM
"Play & Cuddle with our pups while destressing laughing at our awesome line up and you can even apply to adopt or foster if you are looking for some loving companions in your life. Join Our Host, Comic Cure's Richy Leis, as well as Comedians seen on Netflix, Comedy Central, America's Got Talent, HBO & More!" Learn more here.
Bulldogs, Bagels, and Coffee | Venice | Saturday, March 21 | 9:00 AM – 12:00 PM
"Mark your calendars for Bulldogs, Bagels & Coffee! This dog friendly event will be held from 9:00 AM to 11:30 AM on March 21, 2020 at Groundwork Coffee Co. in Venice, CA, US." Learn more here.
Are we missing your awesome dog-friendly event on here? Email socialmedia@fitdog.com to let us know! 
Last updated on February 28, 2020.