Want to be part of your pup's exercise regime while taking in the beautiful nature and weather of Southern California? We came up with five of our favorite dog-friendly hikes in LA for you and your furry companion.
If you want your dog to hike but can't make it out to the trail, check out Fitdog's Canyon Hikes!
Prepare for your hike
If you're hitting the trail with your dog, you'll want to bring a few provisions.
Water
A water bowl
Poop bags
Musher's Wax (or doggie footwear) to protect your pup's paws from heat-induced blisters.
A baggie of treats or even kibble—dogs need snacks, too.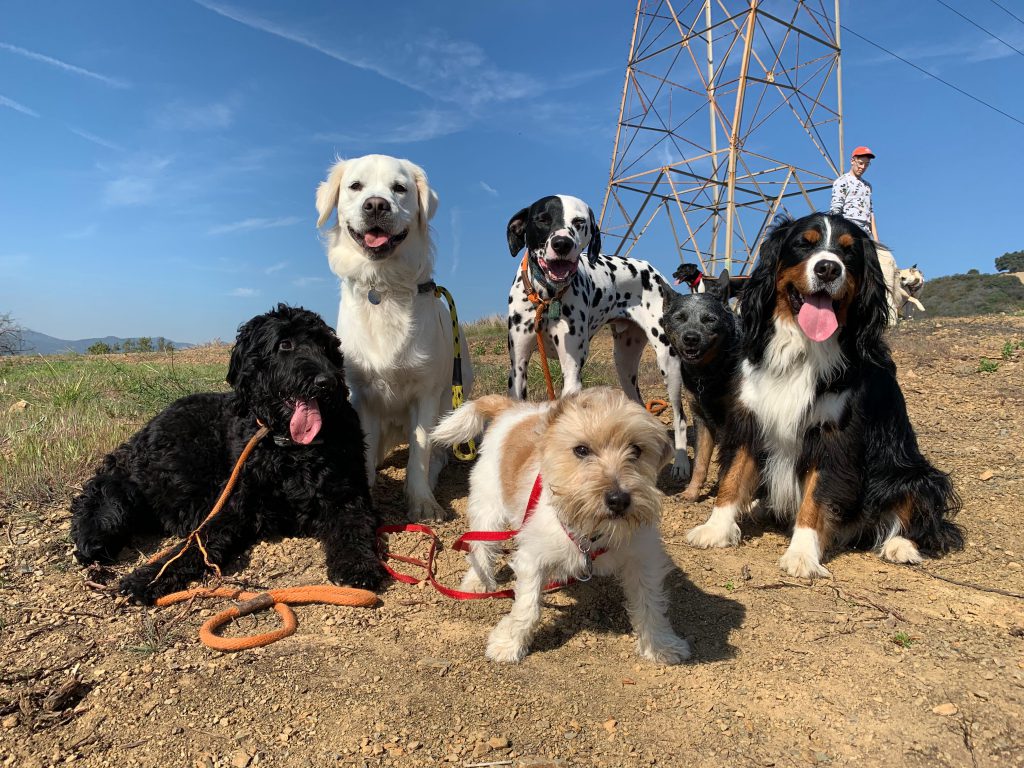 5 dog-friendly hikes for your next adventure
Griffith Observatory West Trail Loop
Dogs are welcome in the Griffith Park and West Trail Loop. There is a quaint picnic area at the base where you can relax with friends and have lunch before heading out on the path. At the top, you'll enjoy views of the city and observatory. Unfortunately, the observatory does not allow dogs inside, but the exterior still provides plenty of awesome views.
Malibu's Sandstone Peak
Sandstone Peak is the tallest point in the Santa Monica Mountains at 3,111 feet. A 6.25-mile loop with 1,075 feet of elevation gain offers expansive views of the range at the summit. Just forty minutes outside Santa Monica, you will feel like you are embarking on a true adventure.
Solstice Canyon
Solstice Canyon offers several hikes depending on your preference. The one-mile Solstice trail is easy and shaded and leads to the remains of what is believed to be the oldest existing stone building in Malibu.
Santa Monica Beach and South Bay Bike Path
The beach path is quintessential Southern California. This path will take you from Santa Monica through the oddities of Venice Beach all the way to Marina Del Rey. You can even start up on the Santa Monica bluff and take it all the way down to the beach. Or, you can snag a parking spot near the beach, and chances are you'll run into this path wherever you are around the LA beaches!
The only caveat: at the start of the path in Santa Monica, you will be sharing the road with crowds of bikers, rollerbladers, walkers, and runners, so it's important to have your dog securely by your side. The pedestrian path splits off from the bike path eventually, making the trek well worth the fresh ocean air and unbeatable beach views!
Kenter Canyon
If you and your dog are avid hikers looking for a challenge, then Kenter Canyon is for you! With big hills and panoramic views, you'll be happy to take a snack break atop any one of the scenic hilltops. Located near the Pacific Palisades, it's the perfect addition to a seaside day with your pup.
This article has been updated from its original content. Originally published 8/5/2013. Updated 5/12/2020.
This article was originally featured by Los Angeles Magazine, the definitive resource for Angelenos, on August 1, 2014. Twitter: @mariellewakim @lamag
For more ideas on dog-friendly hikes in LA, check out our feature on CBS Los Angeles!