It's officially spooky season, which means it's time for our annual Howl-o-ween Costume Contest! 
To enter, upload a photo of your pup in costume through our Woobox link or share the picture on Instagram using the hashtag #fitdoghowloween19 and tagging @fitdogclubs and @fitdogsports. Photos must be submitted by October 29 at 11:59pm PST and the top 4 photos with the most likes, plus a Fitdog favorite will be reposted on Oct 30 on our @fitdogclubs Instagram for a final vote. Our winner will be announced on Oct 31!
Official Rules
To enter our photo contest, post a picture of your dog on Instagram using the hashtag #FitdogHowloween19 or on Facebook through our Woobox link. 

The contest starts on October 1st, 2019 and ends at 11:59 pm on October 29, 2019. 

Winner will be announced on October 31st, 2019 at 12 pm. 

The top four photos with the most likes, plus a Fitdog favorite, will be reposted on October 30th on our Instagram for a final vote. 

Winner will receive a basket with up to $200 in doggy goodies. 

Howl-O-Ween 2019 winner will be chosen from the photo that gets the most votes on our October 30th finalist post. 

Participants must be able to pick up the prize from our Santa Monica, CA location in order to be eligible to win. 

Limited to one entry per person. 
And the winner is…
You voted! Dottie the Devil is our first-place winner! Followed up in a close second by Bowie as Rambo!
Thanks to everyone who participated! We can't wait to see you next year. In the meantime, check out more Howl-o-ween memories below!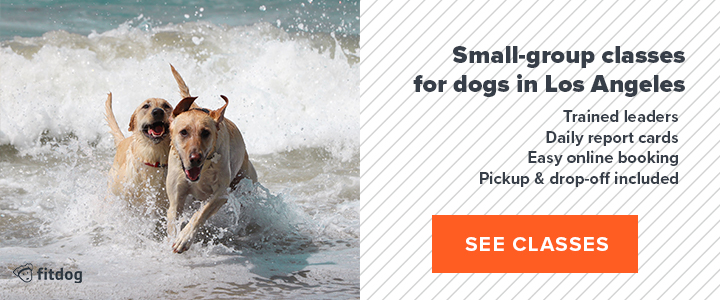 Howl-o-ween Memories
We look forward to Howl-o-ween every year. Here are just some of the awesome memories we've made through the years! Check out last year's Instagram contest winner here!
2017
Kimchi the corgi as sushi! Meet more of our Howl-o-ween 2017 contestants here!
2016
See Edie as HRC and more at our Fitdog Howl-o-ween 2016 album, and see our online submissions here!
2015
See Bowie as Sir Bowie the Brave and all of our contestants for Fitdog Howl-o-ween 2015 here!
2014

See Radar as a police officer and more contestants at our Fitdog Howl-o-ween 2014 album!
2013
Check out this Huffington Post article about our Howl-o-ween 2013 contest. See Pearl as Katy Perry and more at our 2013 photo album!