If you wonder how your dog will do in the daycare scene, you're taking a great step toward success. Some dogs, in fact, don't like daycare at all. Here are dog personality types that raise a few red flags in daycare (and a few unexpected dogs who fit in great!).
Dogs who Don't like Daycare
Hyper-Active Dogs
Not to be confused with active dogs, hyperactive dogs have limited to no impulse control, a lot of energy and don't respond to basic obedience commands. Hyperactive dogs elevate the energy of the playgroup within seconds, which can quickly escalate into a fight. In addition, because they have so much energy, they may try to entice other dogs to play by jumping on them and biting their necks – behaviors that many dogs do not like. These dogs benefit tremendously with dog training to learn how to control their impulses. Once they have graduated from a program, we recommend that they get at least 30 minutes of exercise prior to daycare and are given a variety of activities throughout the week so daycare is less stimulating.
Protective Dogs
Dogs that are protective in nature can be great guard dogs and companions; they will always stick by your side and do anything for you. In the playgroup, however, this behavior comes with issues. Overprotective dogs can snap at other dogs to protect resources and people or reinforce rules from the human pack leader. The best example is that these dogs are like your personal bodyguard or "muscle." Someone bothering you? They will take care of it. Someone not listening to you? They will take care of it. Despite their good intentions, it can cause a lot of problems when your doggy bodyguard snaps at other dogs because they didn't follow your instructions or because they have set out to guard the perimeter or gate. We sometimes have to dismiss these dogs because, in the process of "helping" our dog handlers, they will hurt dogs.
Highly Intelligent Dogs
There is such a thing as a dog that is too smart for daycare. Smart dogs, breeds such as Border Collies, Labrador Retrievers, and Jack Russell Terriers, should only come to daycare once or twice a week; the routine becomes tedious and causes boredom and, potentially, neurosis. When dogs grow bored, they often get into trouble. Whether harassing other dogs for fun or giving themselves jobs like guarding the fence, boredom causes lots of problems. Dogs that are highly intelligent need a dynamic schedule filled with a variety of activities, both physically and mentally engaging.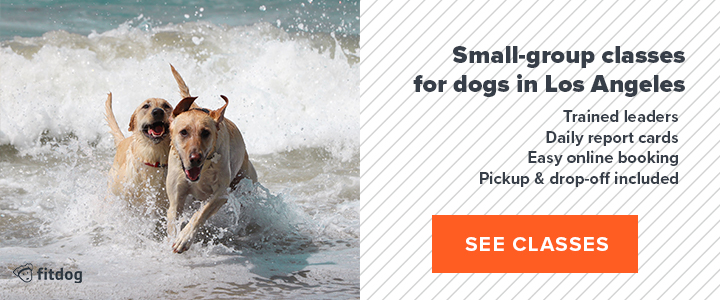 Active Giant Dogs
Dogs weighing more than 100 pounds or standing taller than other large dogs can strike nerves in their playmates. This can easily turn into aggression toward the giant dog. This typically happens when the giant dog is unaware of its bigger size and tries to play with other dogs despite the size difference. The other dogs become afraid and usually try to attack the larger dog. Unfortunately, we typically have to dismiss giant dogs not because they are aggressive but because the other dogs are aggressive toward them. Lazy giant dogs, on the other hand, tend to be all right (because they don't actively jump on or engage the other dogs).
Insecure Dogs
Dogs lacking confidence are considered weak by the pack, prompting other dogs to attack them. Interestingly, dogs in the pack can pick up on this trait almost immediately and consistently (meaning different groups of dogs will have the same reaction). Dogs with low confidence are timid, afraid to make decisions and are generally perceived by humans to be shy. In the dogs' world, however, these dogs are the lowest ranking members of the group and can elicit an immediate negative reaction from the pack (such as dogs attacking them).
Dog training can help these dogs become more social and confident. Additionally,  enrichment activities like a Scent Works class can help increase confidence in pack settings. Providing consistency with set rules at home is key to training a confident and well-adjusted dog that is ready to join the pack.
Intact Female/Male Dogs
Dogs that are not spayed or neutered are not suitable for play. We require that dogs are spayed or neutered by 6 months of age. Contrary to what some people think, it's not because unneutered males are aggressive, it has more to do with the fact that other dogs will attack the unneutered dog as they perceive them as threats. Males will fight for the attention of unspayed females. In general, a lot of conflict arises when intact dogs are in daycare.
Aggressive Dogs
Needless to day, aggressive dogs (toward humans or dogs) are not a good fit for daycare. All dogs have instances where they have an aggressive reaction prompted by a specific behavior or dog. However, aggressive dogs exhibit this behavior frequently and without hesitation or regard for the person or dog he or she is attacking.
There are three main types of aggression such as dominant, fearful and guarding/protective. We touched a bit on protective above. Protective aggression is harder to determine in the playgroup until the dog finds someone or something it wants to guard and protect. It can also be related to toys or food. Dominant describes dogs that attack other dogs when they want to be in control or in reaction to fear, however, it's more of an offensive reaction (like a school bully). Fear aggression is when dogs attack other dogs out of fear, more of a defensive reaction. In either case, usually, aggressive dogs will lunge or try to attack an approaching dog on a leash before they even get into the play area. If you have an aggressive dog, we recommend dog training as soon as aggressive tendencies arise to avoid escalation and having to give up your dog.
Dogs that you think wouldn't like it, but do!
Lap Dogs. It's a misconception that "pocketbook" dogs, like Maltese, Pomeranians, and Shih Tzus, only want to lounge on the sofa all day or ride around in a purse. Don't get me wrong; they do like lounging. But they are also dogs, and they like to play and have fun. Some of our littlest dogs have been our most active and social.
Low Activity Dogs. Some dogs receive great joy relaxing on play equipment and watching over the pack. Even though they refrain from wrestling and chasing, they have just as much fun as rambunctious pups.
Miniature Dogs. Owners with dogs under 5lbs tend to be afraid of placing their tiny pup in a group of dogs. A confident dog, regardless of size, is able to mingle, play and have fun. We've had dogs as small as 2lbs in our daycare play groups without issue. In fact, many of our miniature dogs have powerful personalities that let them rule over the pack and have fun.
Elderly Dogs. A healthy elderly dog might really enjoy being in the pack. It keeps these older dogs social and in the mix. Many senior dogs lack the stamina to play and move around but enjoy being around their friends.
Cover photo by Dominik QN on Unsplash