Dogs of Los Angeles are some of the luckiest in the world. With access to premier vets, facilities, nature, and events, life as an LA pooch isn't bad. One example of this blissful lifestyle is the rising popularity of dog hiking in Los Angeles and for good reason! Each pup benefits from being outdoors and getting in great exercise with their Fitdog friends and trainers. Worried your dog can't take it? Trust us, they can!
Adventure Hikes now offers both Canyon Hikes and Low Impact Hikes so you can select the best option for your pup!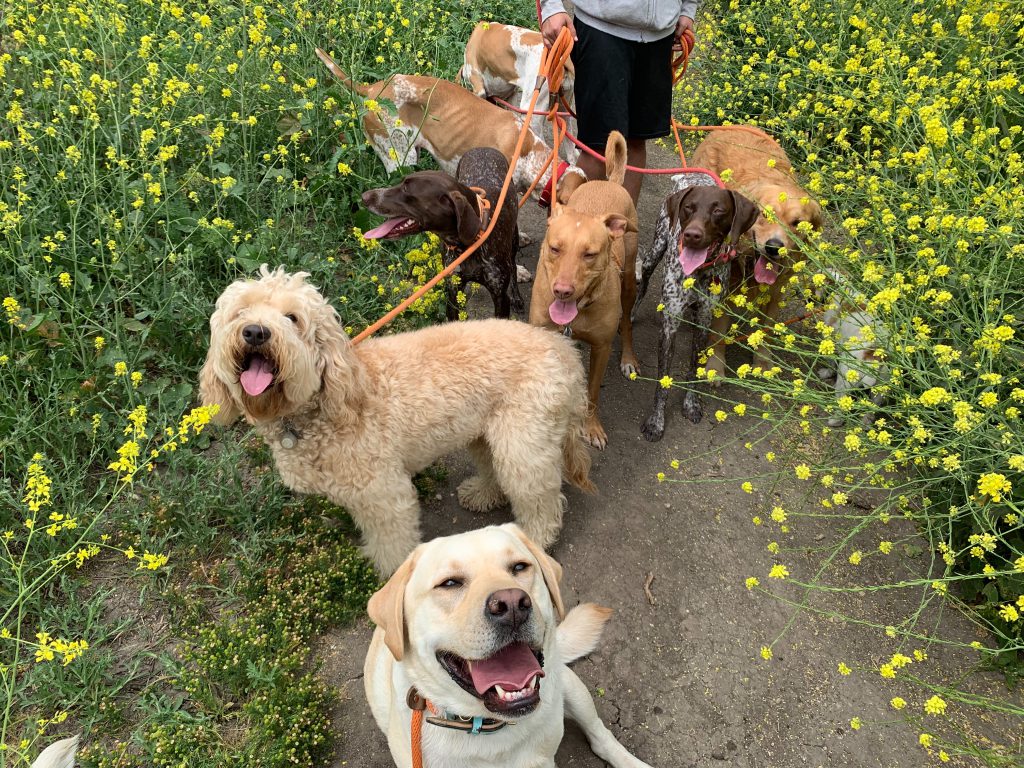 Scheduling Your Sports Assessment
All new members have an at-home Sports Assessment to determine recall, sociability, and to answer any of your questions about our program. Afterward, dogs will go on an Assessment Hike so our Sports Leaders can get an idea of their personalities and physical capabilities. After the hike, you will receive a report card highlighting all your dog's activities, including photos and notes.
Create an account on the Fitdog App and register for a Sports Assessment to get started with Canyon Hikes.
Canyon Hikes
Canyon Hikes are from 9 am – 1 pm on Monday – Friday. Our pack goes on a 4 to 6-mile hike in the Santa Monica Mountains during our Canyon Hikes. They are great for active pups and basic obedience is reinforced on each hike. Trust us, you'll notice a difference! Dogs must demonstrate reliable recall in order to participate off leash.
Low Impact Hike

We offer Low Impact Hikes from 2 pm – 4 pm on Fridays. For 45-minutes, dogs who need low impact exercise join our team for a hike designed just for them. Low Impact Hikes are perfect for elderly dogs, dogs with sports injuries or overweight dogs that aren't ready for the 90-minute hike. Dogs must be dropped off at the Club by 2 pm on Fridays.
Pickup/ Dropoff Services
We offer pickup and drop off for Canyon Hikes in several West LA neighborhoods, including:
Santa Monica
Venice
Playa Vista / Playa Del Rey
Mar Vista
Brentwood
Pacific Palisades
Beverly Hills
Mulholland
West Hollywood

Create an account at app.fitdog.com to schedule your Sports Assessment! We hope to see you on the trail soon.