Is your dog getting enough exercise? If they have bound of energy, your answer is probably no. Or maybe you're trying to get into the fitness game yourself, and you've realized your dog is the perfect workout buddy. Even if you're just trying to get your dog to be less of a couch potato, there are so many benefits to exercising your dog. But you might be asking where to start, and wondering all the best ways to exercise dogs and what kind of exercises dogs love. We are here to show you!
5 exercises dogs love the most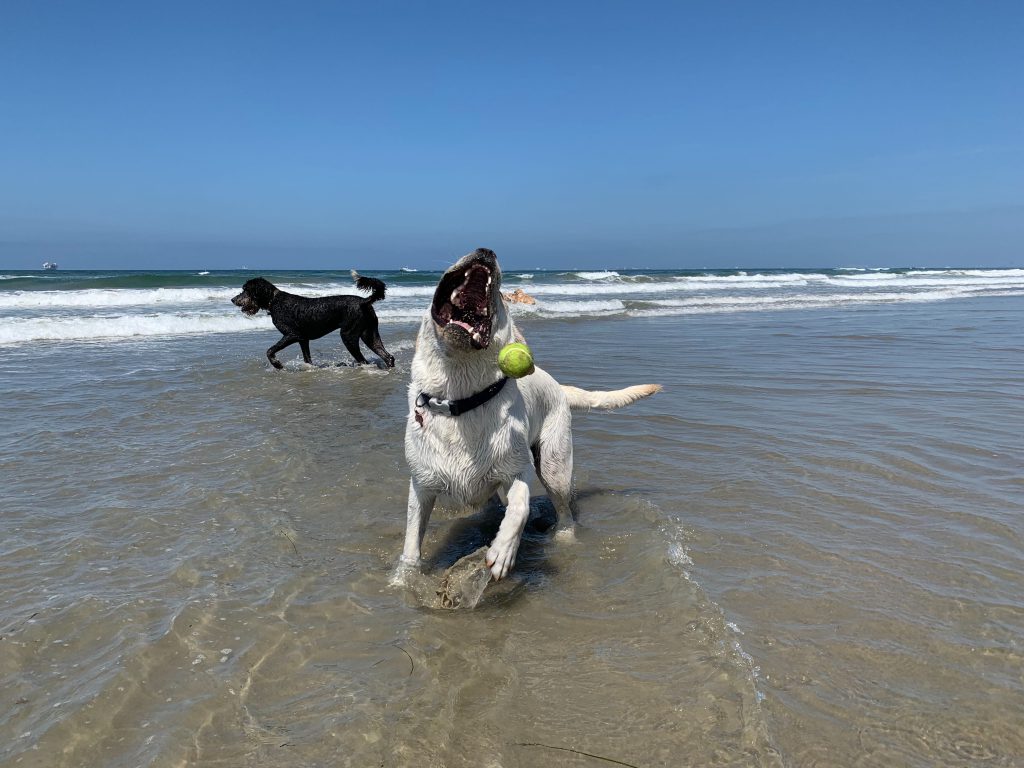 Charlie, nearly catching that tennis ball! Either way, he's having fun.
Fetch
Fetch is not only a fun game but is a great form of exercise. Some dogs will need no introduction to this game and immediately find and retrieve the object. However, other dogs may need you to review the rules of the game with them. Also, note that dogs can be very particular about the toys they'll play fetch with. If your dog doesn't seem interested with the object you've chosen, try other options like a Frisbee, flyers, plastic or softballs, squeaker toys or even a plain wooden stick you picked up from the ground!
Running
Running with your dog is an easy way for both owners and dogs to shed pounds. If you're a runner, don't expect your dog to jump into your running routine the first time out. Dogs, like people, need training and practice to build endurance and distance. Start off slow and build up to a distance that you are both comfortable with. Always remember to bring water!
Tug of War
Tug of war is an at-home game that definitely works to tucker your dog out. Make sure to find a rope or tug toy specifically made for playing tug of war and to avoid hard objects. Most dogs will easily engage in this game. Some like it so much that they will harass you with their tug toys until you give in and play (over and over again). Dogs that have loose or bad teeth should not play tug even with soft objects.
Hiking
Hiking (or long distance walking) is the simplest exercise to keep your dog healthy and allows you to spend some quality time with your pup. If you are lucky enough to live around hiking trails, we recommend heading out early before the hot midday sun comes out. Remember to bring lots of water and always watch your dog's energy level. If your dog is out of shape, he or she will need lots of water breaks and might not make it very far the first time out.
Playing (with 4-legged friends)
Dogs have lots of energy. Some of the best exercise dogs can get is from playing with other energetic dogs. Wrestling, chase, tug of war, and "boxing" are all ways dogs play with each other and will improve your dog's stamina. Either bring your dog to the dog park or drop them off at a cage-free daycare for some fun times with friends. Not all dogs are social or ready to play in group settings, so make sure to watch your dog for signs of stress or aggression when at the dog park. Also, overweight dogs might not benefit from playing with friends because they can choose not to participate.
Concerned about obesity?
If you're concerned that your dog is overweight, implementing a rapid exercise routine might be jumping the gun. When seeking weight loss options for your dog, it's important to first rule out any medical issues they may have. Consult your vet about your dog's health and ways to help them lose weight. Ideas often include taking them on regular walks, reducing food intake or providing them with a healthier diet.
Overweight and obese dogs are at risk for serious health issues like diabetes, joint damage, heart disease, a shorter life expectancy and more. From too many treats to access to too much food, there are several things that affect a dog's weight.
How can you tell if your pup is considered overweight? Here are some tips to help you figure it out:
Pet's ribs, spine, and hip bones are barely detectable when touched
A defined waist cannot be seen or is not defined
Lowered ability to engage in normal activity
Difficulty breathing, particularly when active
If you have any additional questions, please feel free to stop by our Wellness Wednesdays with Vetted Petcare on the first Wednesdays of each month!
No time to exercise your dog?
We get it, dogs need exercise. Fitdog Sports was created to give dogs meaningful exercise, social engagement, and fun. Let us take your dog to the beach, on a hike, or to an agility class with a small group of doggy friends. Group Classes